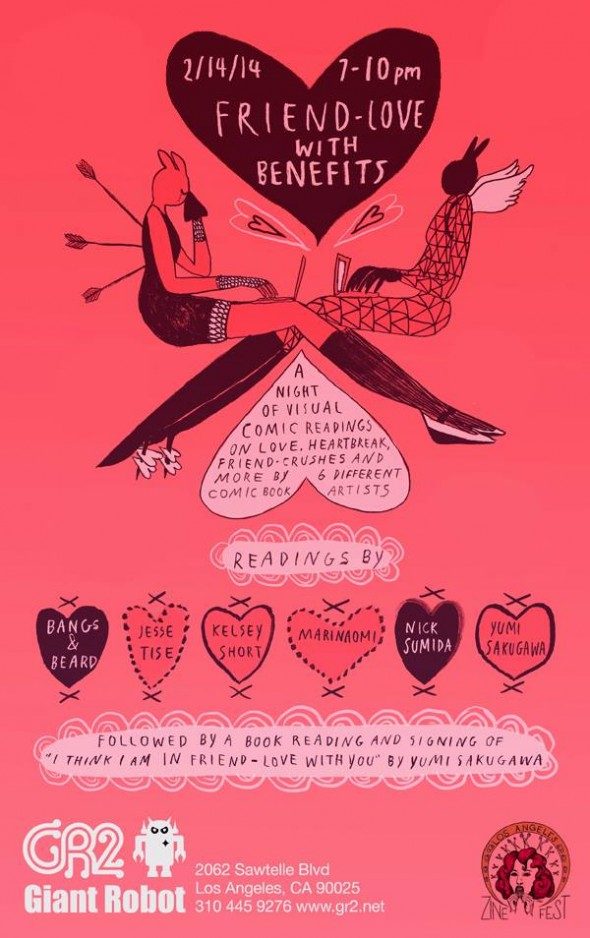 Press Release:
This Valentine's Day, join GiantRobot and L.A. Zine Fest for a night of visual comic readings by 7 different comic book artists and zine-makers on the eternal themes of love, relationships, heartbreak, friend-crushes, online dating and more.
Short comic readings by comic book artists and zine-makers based in Los Angeles and beyond:
Bangs & Beard
Jesse Tise
Kelsey Short
MariNaomi
Nick Sumida
Yumi Sakugawa
A book reading and signing of I THINK I AM IN FRIEND-LOVE WITH YOU by Yumi Sakugawa.
Zine prizes and give-aways at the end of the night.
Friend-Love with Benefits
February 14th, 2014
7:00PM – 10:00PM
GR2
***
More about the performers:
Bangs and Beard are comics by cartoonist couple Melinda Tracy Boyce ("The Melinderly", "AOA") and Aaron Whitaker ("The City Troll", "The Awkward Quarterly"). They started making comics together in Portland, OR and now live in Los Angeles, CA with their two rad rats. BangsAndBeardComics.com
South Pasadena-based artist, Jesse Tise graduated from Art Center College of Design with a BFA in illustration. He works both as an printmaking instructor and a freelance illustrator. In his free time, he keeps busy painting, drawing, and printmaking personal projects, and playing tug-o-war with his black giant schnauzer, Samson. jessetise.com
Kelsey is a cat admirer from Los Angeles and transplanted to NYC. Burgeoning illustrator and zine maker. Still figuring things out. nowhereplace.com
MariNaomi is the author and illustrator of the award-winning graphic memoir Kiss & Tell: A Romantic Resume, Ages 0 to 22, the upcoming books Dragon's Breath and Other True Stories and Turning Japanese, and her self-published zine, Estrus Comics (1998 to 2009). Her comics and essays have been featured on The Rumpus, The Weeklings, Truth-out, SFBay.CA, The Comics Journal, The Bay Citizen, XOJane and more. Learn more at marinaomi.com.
Nick Sumida is a cartoonist hailing from Aiea, HI. He has worked as a storyboard artist on animated shows like Comedy Central's "Ugly American's" and the upcoming "Bad Seeds" from Nickelodeon, and his comics can be seen floating around tumblr. His debut comics collection, "Snackies", is being published by Youth In Decline in Spring 2014. nsumida.tumblr.com
Yumi Sakugawa is a comic book artist and the author of I Think I Am In Friend-Love With You (Adams Media 2013). A graduate of the fine art program of University of California, Los Angeles, Yumi is a regular comic contributor to The Rumpus and WonderHowTo. She also loves coffee and tacos. yumisakugawa.com
GiantRobot
2062 Sawtelle Blvd, Los Angeles, CA 90025