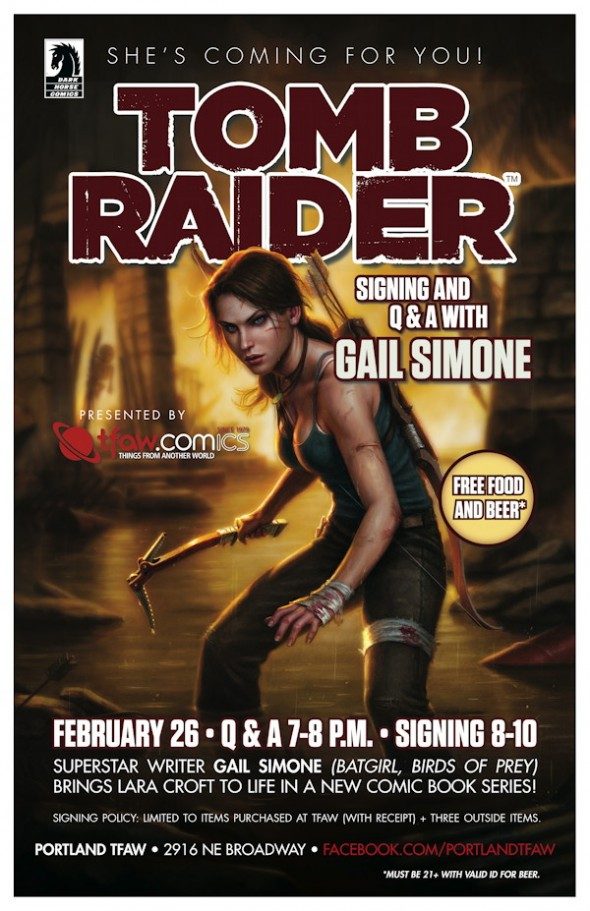 GAIL SIMONE signs at TFAW on Wednesday, February 26th, 2014 from 7:00PM till 10:00PM!
Press Release:
She's coming for you! Things From Another World (TFAW) is honored to welcome superstar writer Gail Simone (Batgirl, Birds of Prey) to the Portland TFAW February 26 from 7-10 p.m. for a Tomb Raider signing and Q & A. Bring your questions: the Q & A will begin at 7:00 p.m., with the signing at 8:00 p.m. Free food and beer (for those 21+ with ID) will be provided.
Tomb Raider's Lara Croft is one of the most famous and recognizable video game characters in history, and Gail Simone is launching her on the adventures that will change her life forever in Dark Horse Comics' new ongoing Tomb Raider comic book series. This is the official continuation of Lara Croft's story from the 2013 video game, which has sold more than 4 million copies!
"I'm excited to get to do a signing at one of my favorite stores anywhere, and excited for people to finally get to read our continuation of the Tomb Raider saga," said Gail Simone. "It's going to be far too much fun for everyone, I think!"
"We're huge fans of Gail Simone and have wanted to do a signing with her for years," said TFAW Vice President Andrew McIntire. "We're thrilled to host her at the Portland TFAW–this is going to be an event to remember!"
Gail Simone is one of the most celebrated writers in comics, known for her dynamic portrayals of strong female characters and her unique mixture of humor and darkness. After breaking into the mainstream with Deadpool, Simone has had acclaimed runs on Secret Six, Welcome to Tranquility, Wonder Woman, Birds of Prey, Batgirl, Red Sonja, and more.
Don't miss this chance to get insight from Gail Simone into her latest projects and pick up your copy of Tomb Raider #1 February 26 at the Portland TFAW. Signing policy: limited to items purchased at TFAW (with receipt), plus three outside items.
Things From Another World
2916 NE Broadway, Portland, OR 97232