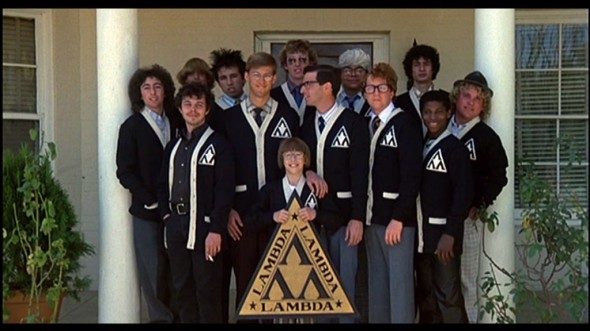 The cast of Revenge of the Nerds appears for a 30th anniversary screening and Q&A panel on Saturday February 8, 2014 at 8:30PM!
Press Release: 
It's been thirty years since those nerds of Lambda Lambda Lambda took on the jocks and jerks of Alpha Beta and Pi Delta Pi! Get ready for panty raids, jock strap pranks, homecoming pep rallys and belching contests in this classic comedy from the 80s, "Revenge of the Nerds!"
This 30th Anniversary celebration will include a screening and a conversation/Q&A with stars Curtis Armstrong ("Dudley 'Booger' Dawson"), Timothy Busfield ("Arnold Poindexter"), Robert Carradine ("Lewis Skolnick"), Brian Tochi ("Toshiro Takashi"), Andrew Cassese ("Harold Wormser"), Larry B. Scott ("Lamar Latrell") and Julia Montgomery ("Betty Childs"), moderated by Chris Hardwick from the Nerdist Podcast.
Presented by SF Sketchfest
Castro Theatre
429 Castro Street San Francisco, CA 94114
(415) 621-6120