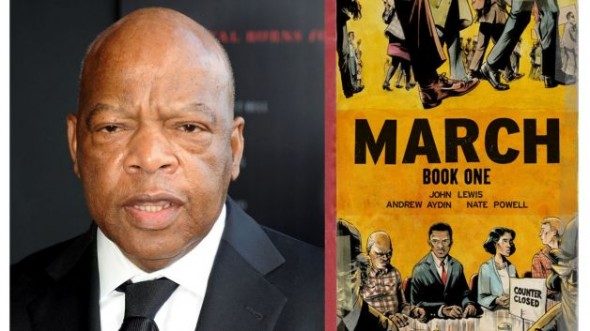 Congressman John Lewis and co-writer Andrew Aydin sign at the Strand on Saturday January 25 at 7:00PM.
Press Release:
American icon Congressman John Lewis, the last living member of the "Big Six" leaders who marched for civil rights on Washington in 1963, visits the Strand for an exclusive chat with writer Andrew Aydin in honor of their acclaimed graphic novel, March.
The beautiful collaborative work follows Congressman Lewis' journey from a sharecropper's farm in Alabama to a segregated schoolroom, to the the march on Washington and beyond. It charts his commitment to civil and human rights, with meditations on the modern age and the distance we've come since the days of Jim Crow. March Book 1 is the first installment in a trilogy that seeks to testify about an important era of history to new generations.
Don't miss out on this important piece of American history during the week of Martin Luther King Day.
Buy a copy of March Book 1 or a $15 Strand gift card in order to attend this event. All options admit one person. Please note that payment is required for all online event orders at the time of checkout. The event will be located in the Strand's 3rd floor Rare Book Room at our store at 828 Broadway at 12th Street.
Strand Book Store
828 Broadway, New York, NY, 10003-4805
(at 12th St.)