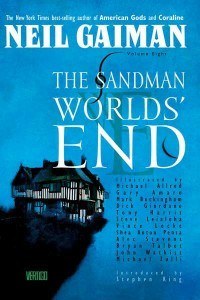 Press Release:
The Cartoon Art Museum welcomes artists Gary Amaro and Steve Leialoha for its ongoing celebration of the 25th anniversary of Neil Gaiman's Sandman. This special presentation will be held on Thursday, January 23 from 7:00 to 9:00pm.
In 1993, Neil Gaiman embarked upon one of the most ambitious Sandman storylines with Worlds' End. Reminiscent of Chaucer's legendary Canterbury Tales, THE SANDMAN: WORLDS' END is a wonderful potpourri of engrossing tales and masterly storytelling. Improbably caught in a June blizzard, two wayward compatriots stumble upon a mysterious inn and learn that they are in the middle of a "reality storm." Now surrounded by a menagerie of people and creatures from different times and realities, the two stranded travelers are entertained by mesmerizing myths of infamous sea creatures, dreaming cities, ancient kings, astonishing funeral rituals and moralistic hangmen.
To fully realize the different realities depicted in this storyline, Gaiman selected several of his favorite artists and tailored stories specifically to their talents. Artists Bryan Talbot and Mark Buckingham illustrated the framing sequence, and pencilers and inkers from A to Z (Allred to Zulli) rendered the six different reality-spanning tales authored by Gaiman. Gary Amaro and Steve Leialoha both contributed to the final issue of Worlds' End, with Amaro's story foreshadowing the series' conclusion.
Amaro and Leialoha will discuss their collaborations with Neil Gaiman on this classic Sandman story, as well as their other work for DC Comics' Vertigo imprint. The two artists will collaborate on a limited print for VIP ticket buyers, available as an attendees-only exclusive.
Tickets for this event will be sold on a sliding scale, and can be purchased here…
General Admission: $10.00 (Cartoon Art Museum members will receive two-for-one admission and an exclusive print). VIP Admission is $25 and includes an exclusive print created for the event by Gary Amaro and Steve Leialoha.
Cartoon Art Museum
655 Mission Street, San Francisco, CA 94105