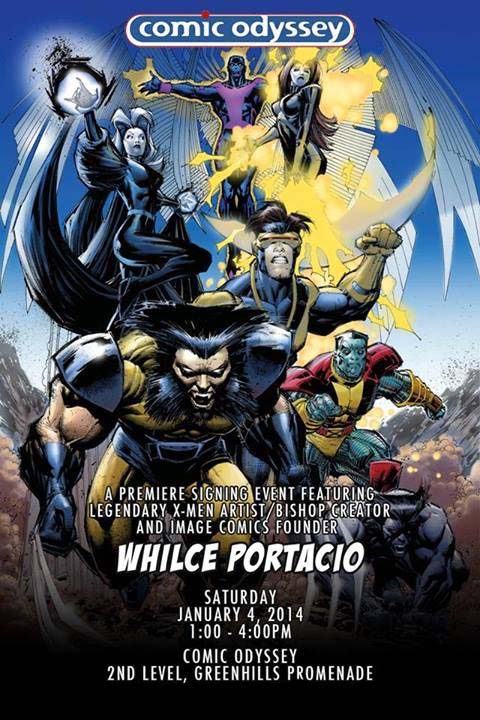 Press Release:
Comic Odyssey proudly welcomes legendary X-Men artist/Bishop creator and Image Comics Founder WHILCE PORTACIO!
JOIN US at our brand new GREENHILLS Branch on Saturday, JANUARY 4, 2014 from 1-4PM and meet one of the all time greats! Get your comics signed, take a selfie with Whilce, or simply stop by, shake his hand and say hello.
Whilce is a true comics legend and proudly Filipino. His body of work is just amazing. He has worked on a countless number of titles including The Punisher, X-Men, Iron Man, Hulk, Batman, X-Factor, and more! And, let's not forget two of his most famous creations… Wetworks and Stone!
We'll have for sale on the day of the event, a few limited edition convention prints by Whilce. Keep an eye on this event's page for images and details.
Plus, let's start off the new year with our first Signing Event Sale of the year!
Variants and Comic Sets – 20% OFF.
Vintage Comics – 10% off.
Posters / Action Figures / Statues / T-shirts – 10% off.
and ALL BACK ISSUES IN OUR BINS – only P100 each!
WHILCE PORTACIO LIMITED EDITION PRINTS are now avalable! These prints were previously only available at SDCC and other conventions in the U.S. Whilce has made a very limited quantity available for the event.
Fully Booked Promenade Greenhills
Quezon City, Philippines