Press Release: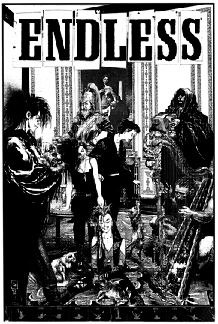 The Cartoon Art Museum welcomes artist Mike Dringenberg to San Francisco for its ongoing celebration of the 25th anniversary of Neil Gaiman's Sandman.
Mike Dringenberg inked the first issues of Sandman, which were penciled by Sam Kieth. When Kieth left the book, Dringenberg took over as penciler, illustrating some of the series' most memorable issues, designing several major characters, and setting the artistic tone for the book with his understated, realistic style. The most notable issue of Dringenberg's tenure was the eighth issue of Sandman, "The Sound of Her Wings," which introduced the Sandman's sister, Death. Dringenberg also created what is perhaps the most widely seen Sandman illustration of all, a poster depicting The Endless, which was prominently featured in the popular TV program Roseanne, adorning Darlene Conner's bedroom in the early 1990s.
On Saturday, December 14, Dringenberg will discuss his tenure on Sandman with Ryan Graff, co-curator of the Cartoon Art Museum's Sandman retrospective Grains of Sand and designer of the museum's forthcoming Sandman exhibition catalog. Although the catalog will not yet be available for purchase, the Cartoon Art Museum will offer a limited edition original bookplate penciled by Mike Dringenberg, inked by Sam Kieth, and signed by both artists as a special keepsake of this historic exhibition.
Tickets for this event will be sold on a sliding scale, and can be purchased at the link!
General Admission*: $25.00
General Admission plus Mike Dringenberg & Sam Kieth bookplate*: $50.00
General Admission, bookplate, plus two additional personalized signatures: $100.00 (Limited to 30 guests. Please note that Mike Dringenberg will not sign any unpersonalized items, and will not sign any CGC-graded books.)
General Admission, bookplate, two signatures, plus dinner with Mike Dringenberg: $300 (Limited to four guests. Join Mike Dringenberg, Ryan Graff, and other Sandman fans and original art collectors for a dinner prior to the Cartoon Art Museum event at a nearby restaurant.)
*Cartoon Art Museum members will be able to bring an additional guest for free at the $25, $50 and $100 levels. Members who purchase tickets at the $50 level will receive two bookplates. Limit two signatures per ticket purchased at the $100 and $250 levels.
Cartoon Art Museum
655 Mission Street, San Francisco, CA 94105