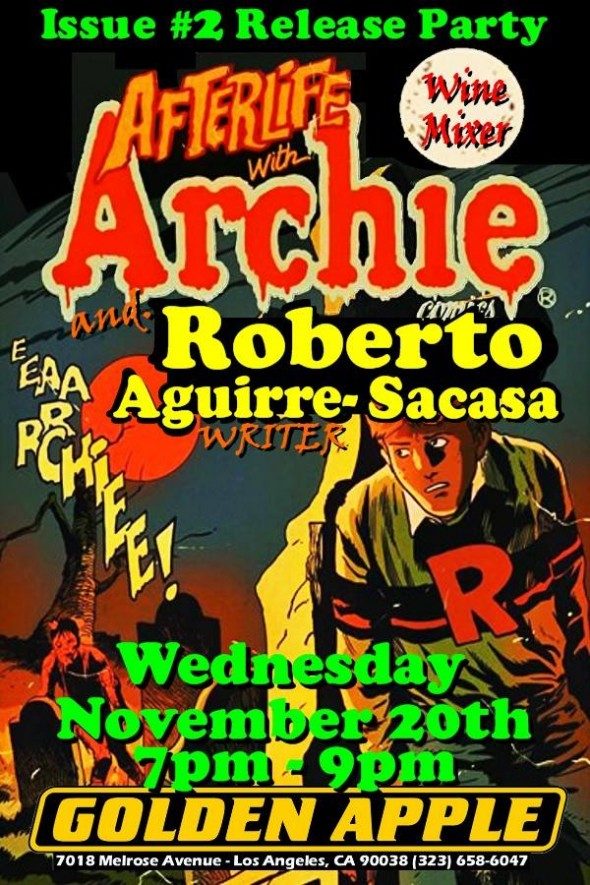 Writer Roberto Aguirre-Sacasa appears at Golden Apple Comics on Wednesday, November 20, 2013 from 7:00pm until 9:00pm!
Press Release:
You are invited to a FREE PARTY at Golden Apple Comics to celebrate the release of Issue #2 of AFTERLIFE WITH ARCHIE…One of the biggest hits of the year. The first issue sold out nationwide and we have the WRITER: ROBERTO AGUIRRE-SACASA joining us on the day of release WEDNESDAY NOVEMBER 20TH from 7-9pm.
-FREE ADMISSION!
-FREE AUTOGRAPHS!
-FREE WINE TASTING (21+)
-FREE SCHMOOZING!
Roberto has worked on many other comics projects such as: Stephen King's The Stand, Amazing Spider-Man & more. Also, he works on Broadway, TV & Film. Most recently he works on the hit TV show GLEE & wrote the CARRIE movie.
We will have Issue #1 (2nd prints) on sale at the event as well as Issue #2!
Golden Apple Comics
7018 Melrose Avenue, Los Angeles, CA 90038
323-658-6047