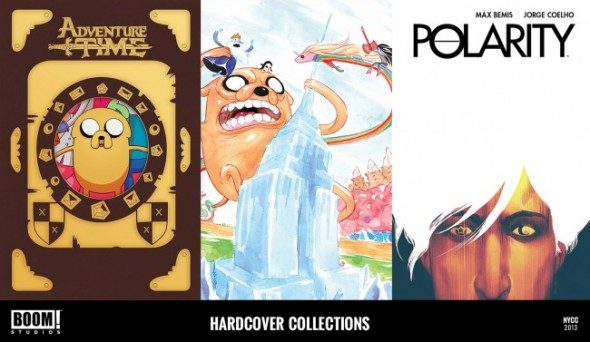 Press Release
BOOM! Studios and its imprints, KaBOOM! Studios and Archaia Entertainment, are pleased to announce the schedule of signings that will take place at its booth (#1344) and the panels they will present at New York Comic-Con, the East Coast's premiere comic book and pop culture celebration that will run Oct. 10-13 at the Javits Center in New York City.
Highlights include a signing with the complete POLARITY creative team of writer (and Say Anything lead singer) Max Bemis, artist Jorge Coelho, colorist Felipe Sobreiro, and cover artist Frazer Irving (this is a ticketed event); a THRILLING ADVENTURE HOUR signing event, featuring the creators and writers of the popular stage show and graphic novel, Ben Acker and Ben Blacker, along with several performers from the show, including Marc Evan Jackson, Mark Gagliardi, Paul F. Tompkins, Hal Lublin, Annie Savage, and Craig Cackowski; the ADVENTURE TIME comics (and the upcoming THE MIDAS FLESH) creative team of writer Ryan North and artists Braden Lamb and Shelli Paroline; actor and graphic novelist Dan Fogler (MOON LAKE); MOUSE GUARD creator David Petersen; HEROBEAR AND THE KID creator Mike Kunkel; RUST creator Royden Lepp; appearances by the creative team behind the popular crime series HIT, writer Bryce Carlson and artist Vanesa R. Del Rey; SONS OF ANARCHY artist Damian Couceiro; and all the way from France, critically acclaimed artist Romain Hugault (THE GRAND DUKE).
In addition, there will be a nice contingent of artists on hand available throughout the entire weekend selling sketches, including Shelli Paroline and Braden Lamb (ADVENTURE TIME); MAD Rupert (REGULAR SHOW: SKIPS); Allison Strejlau (REGULAR SHOW); Ian McGinty (ADVENTURE TIME: CANDY CAPERS); Travis Hill (ADVENTURE TIME); and Mike Kunkel (HEROBEAR AND THE KID).
BOOM! Studios will present the following panels at New York Comic-Con:
Title: Editing Comics: The BOOM! Studios Way
Date: 10/10/2013
Time: 6:15PM – 7:15PM
Location: 1A01
Speakers: Dafna Pleban, Rebecca "Tay" Taylor, Eric Esquivel, Michael Alan Nelson, Mike Kunkel, Caleb Monroe
Description: Join BOOM! Studios creators Eric Esquivel (FREELANCERS), Michael Alan Nelson (DAY MEN, HEXED), Caleb Monroe (STEED AND MRS. PEEL), and Mike Kunkel (HEROBEAR AND THE KID), along with BOOM! Studios Editors Dafna Pleban and Rebecca "Tay" Taylor, as they look into the editing secrets of one of the comic book industry's leading independent publishers and discuss editing do's and don'ts.
—
Title: The Year of Mouse Guard
Date: 10/11/2013
Time: 5:30PM – 6:30PM
Location: 1A10
Speakers: David Petersen, Cory Godbey, and Mel Caylo
Description: Since its debut in 2005, MOUSE GUARD has become one of the most popular, beloved and honored stories in comics and in 2013, creator David Petersen is not slowing down! This year will see the release of the MOUSE GUARD VOL. 3: THE BLACK AXE hardcover and the debut of the four-issue miniseries, MOUSE GUARD: LEGENDS OF THE GUARD VOL. 2 (followed by the release of a hardcover that collects them) from Archaia Entertainment. In addition, from Skelton Crew comes collectible replica Black Axes, the first in a line of Mouse Guard replica weapons! Moderated by Mel Caylo (BOOM! Studios marketing manager), join Petersen and guest Cory Godbey as they give you a behind-the-scenes look at the making of all this Mouse Guard goodness, preview art from upcoming releases and answer your questions! Attendees will receive an exclusive print of an original David Petersen drawing.
—
Title: We Are BOOM!
Date: 10/12/2013
Time: 11:00AM – 12:00PM
Location: 1A01
Speakers: Bryce Carlson, Ross Richie, Stephen Christy, and Mike Kunkel
Description: You will not want to miss this jam-packed, inspiring hour as BOOM! Studios Founder & CEO Ross Richie, Vice President of Development Stephen Christy, and Managing Editor Bryce Carlson, along with creator Mike Kunkel, reintroduce BOOM! Studios to the world of comics. This won't be your average publisher panel droning on and on through a series of press releases and stale cover images. Find out what makes BOOM! Studios different than every other comic publisher in the market and why 2013 has been a transformative year for us. We are BOOM! Come Innovate With Us.
—
Title: The Thrilling Adventure Hour World Domination Tour
Date: 10/12/2013
Time: 2:45PM – 3:45PM
Location: 1A14
Speakers: Ben Acker, Ben Blacker, Joe LeFavi, Craig Cackowski, Mark Gagliardi, Annie Savage, Hal Lublin, Paul F. Tompkins, Jonathan Coulton, Greg Rucka
Description: Created in 2005 by Ben Acker and Ben Blacker, THE THRILLING ADVENTURE HOUR (TAH) is a popular staged production in the style of old-time radio. It has since also become a much-downloaded podcast on Nerdist Industries, and now, a stunning graphic novel anthology! Each show consists of a selection of genre-bending stories, advertisements, from fictional sponsors, musical numbers, and more, performed by a core group of actors known as the WorkJuice Players, and featuring cameos by stars from FIREFLY, DOCTOR WHO, COMMUNITY and many more! Last fall, Acker and Blacker launched a Kickstarter campaign to reach its goal. Now, almost a year later and with award-winning publisher Archaia Entertainment on board to publish the book, the graphic novel is here! Join Acker, Blacker, Editor Joe LeFavi, and WorkJuice Players Craig Cackowski, Mark Gagliardi, Hal Lublin, Annie Savage, Paul F. Tompkins, and Jonathan Coulton as they share behind-the-scenes stories about THE THRILLING ADVENTURE HOUR show, podcast and graphic novel! Whether you're already a fan or just love great entertainment, this will be one of the funniest, most lively panels you'll attend! Moderated by comics great, Greg Rucka!
—
Title: Breaking into Comics Right Now
Date: 10/12/2013
Time: 6:30PM – 7:30PM
Location: 1A01
Speakers: Bryce Carlson, James Lucas Jones, Jim Kuhoric, and Scott Allie
Description: If you're an aspiring comic book creator, this is a panel you don't want to miss! Join some of comic book publishing's top decision makers, including BOOM! Studios Managing Editor Bryce Carlson, Dark Horse Editor-in-Chief Scott Allie, Avatar Press Vice President of Publishing and Managing Editor Jim Kuhoric, and Oni Press Editor-in-Chief James Lucas Jones as they give you the most up-to-date and practical advice on how to break into the comic book industry right now.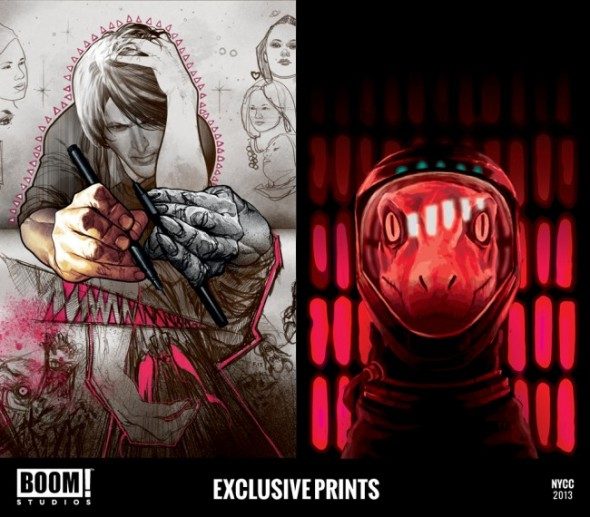 The signing schedule is as follows (subject to change; please check the booth for any updates):
Thursday, Oct. 10
KaBOOM!
Appearing all day:
Mike Kunkel (HEROBEAR AND THE KID)
MAD Rupert (REGULAR SHOW: SKIPS)
Ian McGinty (ADVENTURE TIME: CANDY CAPERS)
Travis Hill (ADVENTURE TIME)
3-4 p.m.
Dustin Nguyen (ADVENTURE TIME: SUGARY SHORTS)
Yehudi Mercado (PANTALONES, TX)
BOOM!
Appearing all day:
Eric Esquivel (FREELANCERS)
Michael Alan Nelson (28 DAYS LATER, DAY MEN, HEXED)
Caleb Monroe (STEED AND MRS. PEEL, ICE AGE)
3:30-4:30 p.m.
Bryce Carlson, Vanesa R. Del Rey (HIT)
4:30-5:30 p.m.
Ramón Pérez (SIX-GUN GORILLA)
5:30-6:30 p.m.
Joe Quinones, Maris Wicks (ROBOCOP: LAST STAND)
7-8 p.m.
Damian Couceiro (SONS OF ANARCHY)
Archaia
3-4 p.m.
Ramón Pérez (JIM HENSON'S TALE OF SAND)
Saurav Mohapatra (MUMBAI CONFIDENTIAL)
F.J. DeSanto (CYBORG 009)
3-4:30 p.m.
Alex Eckman-Lawn (AWAKENING)
4-5 p.m.
Michael Dialynas, Polly Guo (SPERA)
Chandra Free (THE GOD MACHINE)
4-5:30 p.m.
Dan Fogler (MOON LAKE)
4:30-5:30 p.m.
Janet Lee (RETURN OF THE DAPPER MEN)
5-6 p.m.
Mario Stilla (RUBICON)
Joanna Estep (THE THRILLING ADVENTURE HOUR, FRAGGLE ROCK)
5:30-7 p.m.
Royden Lepp (RUST)
Saurav Mohapatra (MUMBAI CONFIDENTIAL)
6-7 p.m.
Alex Eckman-Lawn (AWAKENING)
6-7:30 p.m.
Kevin Colden (MOON LAKE, IMMORTALS: GODS AND HEROES)
7-8 p.m. Mario Stilla (RUBICON)
Andrew E.C. Gaska (SPACE: 1999 – AFTERSHOCK AND AWE, CLASSIC SPACE: 1999 – TO EVERYTHING THAT WAS, CONSPIRACY OF THE PLANET OF THE APES, CRITICAL MILLENNIUM: THE DARK FRONTIER)
7-8:30 p.m.
Shane-Michael Vidaurri (IRON: OR, THE WAR AFTER)
Friday, Oct. 11
KaBOOM!
Appearing all day
Mike Kunkel (HEROBEAR AND THE KID)
MAD Rupert (REGULAR SHOW: SKIPS)
Ian McGinty (ADVENTURE TIME: CANDY CAPERS)
Travis Hill (ADVENTURE TIME)
10:30-11:30 a.m.
Yuko Ota, Ananth Panagariya (ADVENTURE TIME: CANDY CAPERS)
3:30-4:30 p.m.
Yehudi Mercado (PANTALONES, TX)
BOOM!
Appearing all day
Eric Esquivel (FREELANCERS)
Michael Alan Nelson (28 DAYS LATER, DAY MEN, HEXED)
Caleb Monroe (STEED AND MRS. PEEL, ICE AGE)
12-1 p.m.
Jeff Stokely, Ramón Pérez (SIX-GUN GORILLA)
1-2 p.m.
Joe Quinones, Maris Wicks (ROBOCOP: LAST STAND)
2-3 p.m.
Bryce Carlson, Vanesa R. Del Rey (HIT)
3-4 p.m.
Damian Couceiro (SONS OF ANARCHY)
Archaia
10-11 a.m.
Andrew Rostan (AN ELEGY FOR AMELIA JOHNSON)
Mario Stilla (RUBICON)
Rebecca Mock, Polly Guo (SPERA)
Nichol Ashworth (FRAGGLE ROCK)
11 a.m. – 12 p.m.
Ramón Pérez (JIM HENSON'S TALE OF SAND)
Neil Kleid (FRAGGLE ROCK)
Janet Lee (RETURN OF THE DAPPER MEN)
11 a.m – 12:30 p.m.
F.J. DeSanto (CYBORG 009)
12-1:30 p.m.
Royden Lepp (RUST)
Tom Pinchuk, Kate Glasheen (HYBRID BASTARDS!)
12:30-1:30 p.m.
Charles Soule (STRANGE ATTRACTORS)
1:30-2:30 p.m.
Chandra Free (THE GOD MACHINE)
1:30-3 p.m.
F.J. DeSanto (CYBORG 009)
Dan Fogler (MOON LAKE)
Nick Tapalansky, Alex Eckman-Lawn (AWAKENING)
2:30-4 p.m.
Neil Kleid (FRAGGLE ROCK)
3-4 p.m.
David Petersen (MOUSE GUARD)
Saurav Mohapatra (MUMBAI CONFIDENTIAL)
Michael Dialynas, Polly Guo (SPERA)
4-5 p.m.
Royden Lepp (RUST)
Joanna Estep (THE THRILLING ADVENTURE HOUR, FRAGGLE ROCK)
Nichol Ashworth (FRAGGLE ROCK)
Jeremy Bastian (CURSED PIRATE GIRL)
5-6 p.m.
Mario Stilla (RUBICON)
Andrew Rostan (AN ELEGY FOR AMELIA JOHNSON)
Andrew E.C. Gaska (SPACE: 1999 – AFTERSHOCK AND AWE, CLASSIC SPACE: 1999 – TO EVERYTHING THAT WAS, CONSPIRACY OF THE PLANET OF THE APES, CRITICAL MILLENNIUM: THE DARK FRONTIER)
5-7 p.m.
Romain Hugault (THE GRAND DUKE)
6-7 p.m.
Shane-Michael Vidaurri (IRON: OR, THE WAR AFTER)
Nick Tapalansky, Alex Eckman-Lawn (AWAKENING)
Dan Fogler, Kevin Colden (MOON LAKE)
Saturday, Oct. 12
KaBOOM!
Appearing all day:
Mike Kunkel (HEROBEAR AND THE KID)
Shelli Paroline (ADVENTURE TIME, THE MIDAS FLESH)
Braden Lamb (ADVENTURE TIME, THE MIDAS FLESH)
Allison Strejlau (REGULAR SHOW)
MAD Rupert (REGULAR SHOW: SKIPS)
Ian McGinty (ADVENTURE TIME: CANDY CAPERS)
Travis Hill (ADVENTURE TIME)
10:30-11:30 a.m.
Ryan North (ADVENTURE TIME, THE MIDAS FLESH)
1-2 p.m.
Yehudi Mercado (PANTALONES, TX)
2-3 p.m.
Ryan North (ADVENTURE TIME, THE MIDAS FLESH)
BOOM!
Appearing all day:
Eric Esquivel (FREELANCERS)
Michael Alan Nelson (28 DAYS LATER, DAY MEN, HEXED)
Caleb Monroe (STEED AND MRS. PEEL, ICE AGE)
10-11 a.m.
Damian Couceiro (SONS OF ANARCHY)
11 a.m. – 12 p.m.
Jeff Stokely, Ramón Pérez (SIX-GUN GORILLA)
12:15-1:15 p.m.
Bryce Carlson, Vanesa R. Del Rey (HIT)
3-4:30 p.m.
Max Bemis, Jorge Coelho, Felipe Sobreiro, Frazer Irving (POLARITY) Ticketed signing; tickets available at the booth on Saturday morning on a first come, first served basis
5-6 p.m.
Bryce Carlson, Vanesa R. Del Rey (HIT)
Archaia
10-11 a.m.
Andrew Rostan (AN ELEGY FOR AMELIA JOHNSON)
A. David Lewis (SOME NEW KIND OF SLAUGHTER, LONE AND LEVEL SANDS)
Nichol Ashworth (FRAGGLE ROCK)
10-11:30 a.m.
Royden Lepp (RUST)
11 a.m. – 12 p.m.
F.J. DeSanto (CYBORG 009)
Saurav Mohapatra (MUMBAI CONFIDENTIAL)
Jeremy Bastian (CURSED PIRATE GIRL)
11:30 a.m. – 1:30 p.m.
Romain Hugault (THE GRAND DUKE)
12-1 p.m.
Michael Dialynas, Polly Guo (SPERA)
Chandra Free (THE GOD MACHINE)
1-2 p.m.
Charles Soule (STRANGE ATTRACTORS)
Tom Pinchuk, Kate Glasheen (HYBRID BASTARDS!)
Mario Stilla (RUBICON)
2-3 p.m.
Shane-Michael Vidaurri (IRON: OR, THE WAR AFTER)
2-4 p.m.
Nick Tapalansky, Alex Eckman-Lawn (AWAKENING)
2:30-4 p.m.
Royden Lepp (RUST)
3-4 p.m.
Joanna Estep (THE THRILLING ADVENTURE HOUR, FRAGGLE ROCK)
Dan Fogler (MOON LAKE)
4:15-6 p.m.
Ben Acker, Ben Blacker, Marc Evan Jackson, Mark Gagliardi, Paul F. Tompkins, Hal Lublin, Annie Savage, Craig Cackowski (THE THRILLING ADVENTURE HOUR)
6-7 p.m.
Dan Fogler, Kevin Colden (MOON LAKE)
Rebecca Mock, Polly Guo (SPERA)
Ramón Pérez (JIM HENSON'S TALE OF SAND)
Andrew E.C. Gaska (SPACE: 1999 – AFTERSHOCK AND AWE, CLASSIC SPACE: 1999 – TO EVERYTHING THAT WAS, CONSPIRACY OF THE PLANET OF THE APES, CRITICAL MILLENNIUM: THE DARK FRONTIER)
Sunday, Oct. 13
KaBOOM!
Appearing all day:
Mike Kunkel (HEROBEAR AND THE KID)
Shelli Paroline (ADVENTURE TIME, THE MIDAS FLESH)
Braden Lamb (ADVENTURE TIME, THE MIDAS FLESH)
MAD Rupert (REGULAR SHOW: SKIPS)
Ian McGinty (ADVENTURE TIME: CANDY CAPERS)
Travis Hill (ADVENTURE TIME)
10-11 a.m.
Yehudi Mercado (PANTALONES, TX)
12-1 p.m.
Yuko Ota, Ananth Panagariya (ADVENTURE TIME: CANDY CAPERS)
BOOM!
Appearing all day:
Eric Esquivel (FREELANCERS)
Michael Alan Nelson (28 DAYS LATER, DAY MEN, HEXED)
Caleb Monroe (STEED AND MRS. PEEL, ICE AGE)
11:30 a.m. – 12:30 p.m.
Jeff Stokely, Ramón Pérez (SIX-GUN GORILLA)
1:30-2:30 p.m.
Bryce Carlson, Vanesa R. Del Rey (HIT)
2:30-3:30
Damian Couceiro (SONS OF ANARCHY)
3:30-4:30 p.m.
Max Bemis (POLARITY) Ticketed signing; tickets available at the booth on Sunday morning on a first come, first served basis
Archaia
10-11:30 a.m.
Neil Kleid (FRAGGLE ROCK)
A. David Lewis (SOME NEW KIND OF SLAUGHTER, LONE AND LEVEL SANDS)
Andrew Rostan (AN ELEGY FOR AMELIA JOHNSON)
Royden Lepp (RUST)
11:30 a.m. – 12:30 p.m.
Nichol Ashworth (FRAGGLE ROCK)
Janet Lee (RETURN OF THE DAPPER MEN)
Shane-Michael Vidaurri (IRON: OR, THE WAR AFTER)
11:30 a.m. – 1 p.m.
F.J. DeSanto (CYBORG 009)
12:30-1:30 p.m.
Joanna Estep (THE THRILLING ADVENTURE HOUR, FRAGGLE ROCK)
Neil Kleid (FRAGGLE ROCK)
Ramón Pérez (JIM HENSON'S TALE OF SAND)
1-2 p.m.
Chandra Free (THE GOD MACHINE)
1:30-2:30 p.m.
Shane-Michael Vidaurri (IRON: OR, THE WAR AFTER)
Tom Pinchuk, Kate Glasheen (HYBRID BASTARDS!)
1:30-3 p.m.
Royden Lepp (RUST)
2-3 p.m.
Romain Hugault (THE GRAND DUKE)
2:30-4 p.m.
Dan Fogler, Kevin Colden (MOON LAKE)
Alex Eckman-Lawn (AWAKENING)
3-4 p.m.
Mario Stilla (RUBICON)
Andrew E.C. Gaska (SPACE: 1999 – AFTERSHOCK AND AWE, CLASSIC SPACE: 1999 – TO EVERYTHING THAT WAS, CONSPIRACY OF THE PLANET OF THE APES, CRITICAL MILLENNIUM: THE DARK FRONTIER)
4-5 p.m.
Rebecca Mock, Polly Guo, Michael Dialynas (SPERA)
As a reminder, the following exclusives will be available for sale at New York Comic-Con:
Exclusive Variant Covers:
ROBOCOP: LAST STAND # 1 (Joe Quinones, colors by Maris Wicks)
DAY MEN #1 (Khary Randolph, colors by Blond)
SONS OF ANARCHY #1 (Gabriel Hardman, colors by Matthew Wilson)