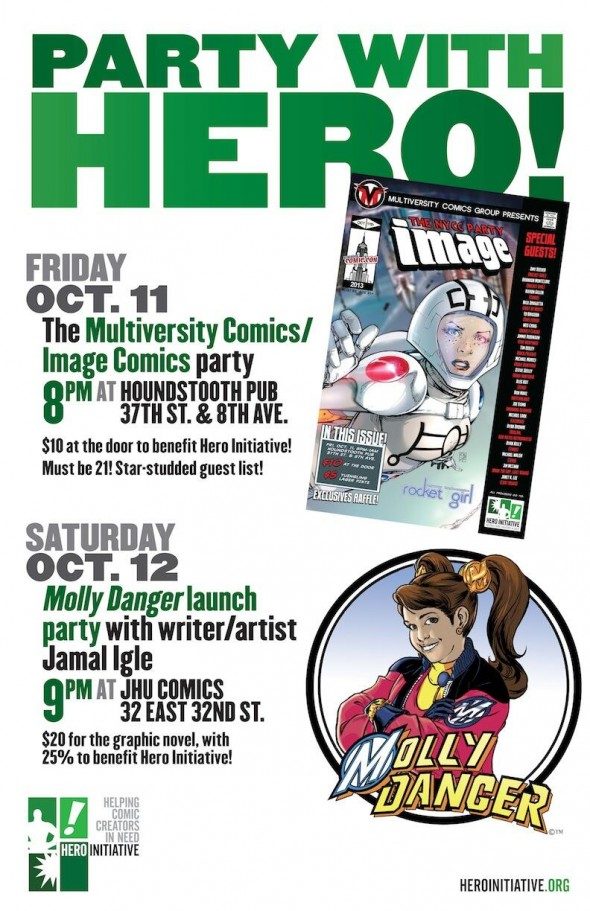 Press Release:
Hero Initiative is traveling to the Big Apple to attend New York Comic Con at the Javits Center, October 10th-13th. Hero has a whole lot going on throughout the city to raise money for comic creators in medical and financial need.
Anchoring our booth throughout the weekend is artist Charlie Adlard (The Walking Dead). Charlie is journeying all the way from the UK to herald the release of The Walking Dead 100 Project. Make sure you get to the Hero Initiative booth, #1759, to get your copy and signature from Charlie!
In addition, Hero is the ONLY place to find the legendary Golden Age Superman artist Al Plastino. Make sure you come by from 1-7 p.m. on Friday ONLY to meet the man himself!
Hero Initiative is working after hours both Friday and Saturday nights so YOU can party! On Friday October 11th, Image Comics and Multiversity Comics team up to bring you THE BIG NYCC Party to help raise money for Hero Initiative. A $10 cover gets you in to The Houndstooth Pub located on 8th Ave. between 36th and 37th, just a three-block walk from the Javits Center. Be there starting at 8 p.m. to party with some great Image Comics talent! And everyone through the door is automatically entered into a raffle to win a copy of all of Image's exclusives for NYCC 2013!
On Saturday October 12th, get to JHU Comics at 32 East 32nd St. for the launch party for Jamal Igle's Molly Danger, Book One! Molly is the world's most powerful 10-year-old girl and protector of the city of Coopersville. Copies of the graphic novel will be on sale for $19.99, with 25% of the proceeds benefitting Hero Initiative. The party, sponsored by Jerry's Artarama, Strathmore and Artograph, runs from 9 p.m 'til midnight, and writer/artist Jamal Igle will be on hand to sign copies! Another great way to spend your con weekend and help raise money for Hero!
Back at the convention center, hit the Titan Books booth anytime after noon Saturday to get your "Frogs" print signed and numbered by legendary artist Jim Steranko! Jim will sign and number 100 prints for Hero, available at $20 each, only at the Titan booth, #2142.
All weekend long, make sure you swing by The Artist's Choice, booth #N107 at the entrance to Artist's Alley. A great variety of artists will be signing all weekend for donations to Hero Initiative. Artists include Chris Batista, Colleen Doran, Jose Luis Garcia-Lopez,
 Ron Garney,
 Keith Giffen,
 Klaus Janson, 
Adam Kubert, 
Andy Kubert,
 Bob Layton,
 Steve McNiven, 
Jerry Ordway,
 George Pérez,
 John Romita Jr., 
Josef Rubinstein, 
Tom Smith,
 John Stanisci, and 
Dan Green. Please see The Artist's Choice for specific dates and times.
And ALSO make sure you hit Splash Page Comic Art, booth #2405. They'll be hosting signings all weekend with donations going to Hero Initiative. Artists include: Charlie Adlard, Lee Bermejo, Ken Kristensen, Michael Lark, M.K. Perker, Goran Sudzuka, and Joe Quinones. Please swing by the Splash Page Comic Art booth for specific dates and times.
Hero Initiative's talent schedule for booth #1759 is:
THURSDAY, OCT. 10 (3:00-9:00 PM)
3:30-4:30: Charlie Adlard
FRIDAY, OCT. 11 (10:00AM-7:00 PM)
11:00-12:00: Charlie Adlard
11:00-12:30: Jerry Ordway
1:00-7:00: Al Plastino
SATURDAY, OCT. 12 (10:00AM-7:00 PM)
1:00-2:30: Charlie Adlard
3:00-4:00: John Arcudi + James Harren
SUNDAY, OCT. 13 (10:00AM-5:00 PM)
11:00-12:00: Charlie Adlard
About The Hero Initiative
The Hero Initiative is the first-ever federally chartered not-for-profit corporation dedicated strictly to helping comic book creators in need. Hero creates a financial safety net for yesterday's creators who may need emergency medical aid, financial support for essentials of life, and an avenue back into paying work. It's a chance for all of us to give back something to the people who have given us so much enjoyment.
Since its inception, The Hero Initiative has had the good fortune to grant over $500,000 to the comic book veterans who have paved the way for those in the industry today. For more information, visit www.heroinitiative.org or call 626-676-6354.