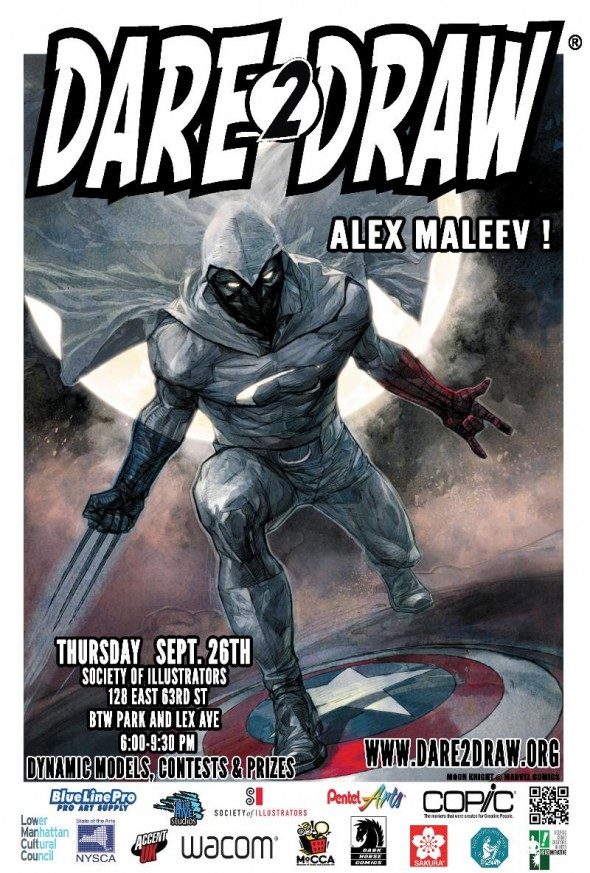 Artist Alex Maleev appears at Society of Illustrators on Thursday, September 26, 2013 from 6:00pm until 9:30pm!
About Alex Maleev:
Eisner-Award-winning artist, Alex Maleev, is a comic book illustrator of Bulgarian descent best known for the Marvel Comics' series Daredevil Vol. 2, collaborating with writer Brian Michael Bendis.
Maleev has a distinct drawing style of dark, grainy imagery, which gives his work the 16mm-camera look of old-fashioned documentary. Maleev studied under artist and teacher José Delbo.
In 2006, Maleev finished his run with Bendis in Daredevil and planned a collaboration with the writer on a new ongoing Spider-Woman series. Bendis and Maleev collaborated, once again, on the four-part "Halo: Uprising" miniseries from Marvel Comics. He first teamed with Bendis on Todd McFarlane's "Sam and Twitch" series. In 2010, Alex returned to partner with Bendis, on "Scarlett" and The Spider-Woman Motion Comic.
Maleev also did art for the comic book The Crow: Dead Time, The Crow: Flesh & Blood, the New Avengers "Illuminati" special, the January 2007 issue of the New Avengers, issue #26 and the one shot, Civil War: The Confession.
In his comics, he sometimes references his Bulgarian origins. For example, in Aliens vs. Predator, alien eggs are stored in the cellar of a typical Bulgarian church. In Bulgaria, he is famous for Godan (Ãîäúí in Bulgarian) and Carthel of Dead, published in Riko magazine since 1991 and 1992, respectively. In 1994, he attended the Joe Kubert School.
Society of Illustrators
128 East 63rd Street, New York, NY 10065