David Cross and Bob Odenkirk appear with special guest Brian Posehn appear at the Brattle Theatre on Saturday September 14, 2013 at 6:00 PM!
SOLD OUT $10 tickets on sale August 20 at 9am
Press Release:
Harvard Book Store is pleased to welcome BOB ODENKIRK (Breaking Bad) and DAVID CROSS (Arrested Development) for a discussion of their book Hollywood Said No!: Orphaned Film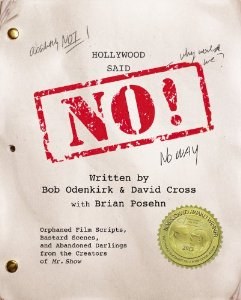 Scripts, Bastard Scenes, and Abandoned Darlings from the Creators of Mr. Show.
Bob Odenkirk and David Cross, creators of HBO's classic sketch comedy show Mr. Show, present to you this collection of never-before-seen scripts and ideas that Hollywood couldn't find the gumption to green-light. Simply put…
HOLLYWOOD SAID NO!
Since Mr. Show closed up shop, Bob and David have kept busy with many projects–acting in fun, successful, movies and TV shows, directing things, and complaining about stuff that didn't turn out well to anyone who would listen, and even alone, in silence, inside their own heads. Hollywood Said No! reveals the full-length, never-before-seen scripts for Bob and David Make a Movie (fleshed out with brand-new storyboards by acclaimed artist Mike Mitchell) and Hooray For America!: a satirical power-house indictment of all that you hold dear. This tome also includes a bonus section of orphaned sketch ideas from the Mr. Show days and beyond, suitable for performance by church groups that aren't all koo-koo about religion. Hollywood Said No!, is chock-full of comic twists, turns, and maybe a few hard truths. We said "maybe," but what we mean was "probably not."
Now, for the first time, take a peek at the scripts that didn't get the go-ahead and ponder a world we can only dream about…and beyond!
The Brattle
40 Brattle St, Cambridge, MA 02138