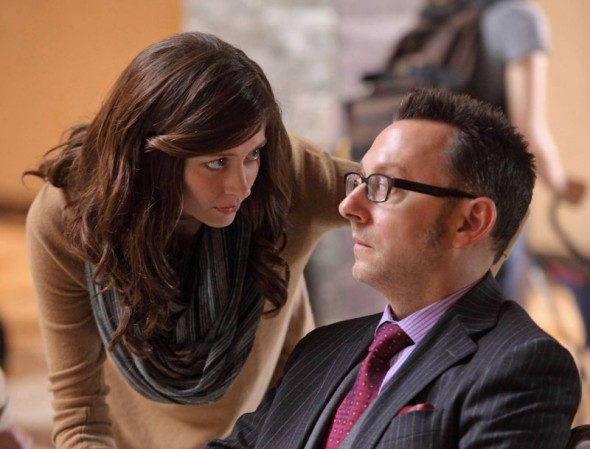 Press Release:
AMY ACKER TAKES "ROOT" AS A SERIES REGULAR IN SEASON THREE OF PERSON OF INTEREST
EXEC. PRODUCERS NOLAN & PLAGEMAN RELEASE NEW SEASON INTEL AT COMIC-CON!
POI Fans May Find Their Face in Upcoming Episodes via a New Social Photo Opportunity Launching for Season 3
BURBANK, Calif. (July 20, 2013) — With the Machine gone missing and cybervillain Root on the loose at the end of season two, it's becoming increasingly difficult to get decent intel on Person of Interest, which returns for a third season September 24 on a new day and time: Tuesdays at 10/9c on CBS. Fortunately, fans of the hit surveillance drama from Warner Bros. Television and J.J. Abrams' Bad Robot Productions were given the inside track by executive producers Jonathan Nolan and Greg Plageman today at the show's packed Comic-Con panel.
Details on the breaking news below:
ACKER TAKES ROOT
The minds behind the Machine (Nolan & Plageman) announced that fan-favorite recurring guest star Amy Acker has been promoted to series regular for the upcoming third season, starring as Root, the Machiavellian cyber-hacker.

 
First introduced in season one as a foil for Finch and last seen in a mental institution, the conflicted cyber-terrorist Root will stop at nothing to find the Machine and set it free.

 
Acker previously appeared in J.J. Abrams' Alias and Joss Whedon's Angel, and she stars in Whedon's acclaimed feature film Much Ado About Nothing.
WANT TO BECOME THE NEXT "PERSON OF INTEREST"?
Nolan and Plageman also hinted that fans should keep an eye on the Person of Interest Facebook page in the coming weeks. Here's why:
Warner Bros. Television and CBS are launching the Person of Interest Social Photo Opportunity, which will give the show's fans on Facebook the ability to submit photos for a chance to become a "person of interest" at some point during season three.

 
Currently in development and expected to launch prior to the debut of season three, the POI Social Photo Opportunity will allow fans to submit personal photos through Facebook, with the possibility of their image being included in the show during an upcoming episode.

 
For more information on the chance to become a "person of interest," fans should "Like" the Person of Interest Facebook page at www.facebook.com/PersonOfInterestCBS and stay tuned for details — which will be released in the coming weeks — on when and how to submit images.

 
When the POI Social Photo Opportunity Facebook app launches, fans will then be able to submit an image from their own Facebook account, add effects and then upload it to a database. POI producers will then select photos for use during upcoming episodes of the show, with new images appearing throughout the entire third season. Photos could appear at any time … in any place … in any episode.
The first two seasons of Person of Interest are available now for digital download (in standard and high definition) through all online retailers, includingiTunes and Amazon Instant Video. Additionally, the complete second season of Person of Interest will be available on Blu-ray™ Combo Pack and DVD on September 3, 2013.
For additional information about Warner Bros. Television activities at Comic-Con, follow us on Twitter @TheWBdotcom (hashtag #WBSDCC) and visitwww.thewb.com/comiccon.