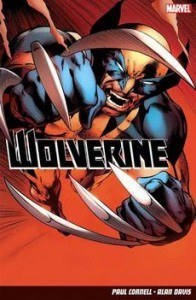 PAUL CORNELL signs WOLVERINE: HUNTING SEASON at the Forbidden Planet London Megastore on Wednesday 14th August from 6 – 7pm.
Pay attention very closely: There's a mystery here even Wolverine hasn't sniffed out yet.
When Wolverine finds himself the bargaining chip in a hostage situation, he must make a decision that will follow him forever literally! How can a berserker fight what he can't see? And how far will he go to assert his humanity in the face of the unknown? Guest-starring Nick Fury, Agent of S.H.I.E.L.D.! Then, Wolverine must track down a boy on a deadly rampage before he does the unthinkable! How will Logan defeat an enemy with no permanent body to slash and claw? And what does the Watcher have to do with all this?
Find out when superstars Paul Cornell (Captain Britain And MI13, Doctor Who, Action Comics) and Alan Davis (Avengers, Clandestine, Excalibur, Uncanny X-Men) take on the Wolverine!
Paul Cornell is a writer of SF/F in prose, television and comics. He's written Wolverine for Marvel, Superman and Batman for DC, and is the creator of Saucer Country for Vertigo. His first urban fantasy novel, London Falling, is out from Tor.
Forbidden Planet London Megastore
179  Shaftesbury Avenue, London, WC2H 8JR