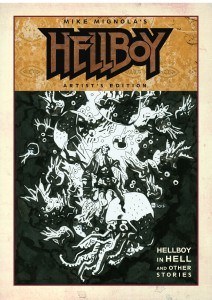 Press Release:
Mike Mignola's Hellboy, one of the best-loved comic creations of the past two decades, will be showcased in the acclaimed Artist's Edition format from IDW! Mignola's Hellboy, the star of comics and screen, will be a welcome addition to the rapidly growing Artist's Edition library, IDW's award-winning imprint. Featuring scans of original art in their rawest form, Artist's Editions enable fans to experience the next best thing to owning a favorite artist's originals.
"Since the beginning, I've been pretty much in awe of the Artist's Edition series IDW has been doing," said Mignola, "I'm thrilled (and actually a little honored) to have a Hellboy book appear in that series."
Collecting the first five issues of Hellboy in Hell, where, after making the ultimate sacrifice, Hellboy must confront what Hell has in store for him. Alone, he faces the demons of his past as Mignola reveals the dark secrets that could define Hellboy's legacy. Additionally, several shorter works will be included in this volume.
"I can't thank Mike enough for allowing us to do this book," said Artist's Editions editor Scott Dunbier, "His stories are classics and it's a joy to be able to pour over his art."
Mignola's enduring creation has established a devoted following through the Hellboy series and the related tie-ins B.P.R.D., Abe Sapien, and Lobster Johnson, all published by Dark Horse Comics. Hellboy has been adapted into two successful major motion pictures by director Guillermo Del Toro and three animated features. Mike Mignola and Hellboy are staples of modern comics and IDW is ready to shake the Right Hand of Doom!
What is an Artist's Edition?
AN ARTIST'S EDITION PRESENTS COMPLETE STORIES WITH EACH PAGE SCANNED FROM THE ACTUAL ORIGINAL ART.
While appearing to be in black & white, each page has been scanned in COLOR to mimic as closely as possible the experience of viewing the actual original art—for example, you are able to clearly see paste-overs, blue pencils in the art, editorial notes, art corrections. Each page is printed the same size as drawn, and the paper selected is as close as possible to the original art board.
About IDW
IDW is an award-winning publisher of comic books, graphic novels and trade paperbacks, based in San Diego, California. Renowned for its diverse catalog of licensed and independent titles, IDW publishes some of the most successful and popular titles in the industry, including: Hasbro's The TRANSFORMERS, G.I. JOE and MY LITTLE PONY; Paramount's Star Trek; Nickelodeon's Teenage Mutant Ninja Turtles; 2000AD's Judge Dredd; The Rocketeer; Toho's Godzilla; Wizards of the Coast's Magic: The Gathering and Dungeons & Dragons; HBO's True Blood; and the Eisner-Award winning Locke & Key series, created by best-selling author Joe Hill and artist Gabriel Rodriguez. IDW is also home to the Library of American Comics imprint, which publishes classic comic reprints, and Yoe! Books, a partnership with Yoe! Studio.
IDW's critically- and fan-acclaimed series are continually moving into new mediums. Currently, Warner Brothers and Barry Sonnenfeld are attached to adapt LORE into a feature film starring Dwayne "The Rock" Johnson and Jerry Bruckheimer Films and Disney are creating a feature film based on World War Robot, with Michael Bay's Platinum Dunes and Sony bringing Zombies vs. Robots to film.