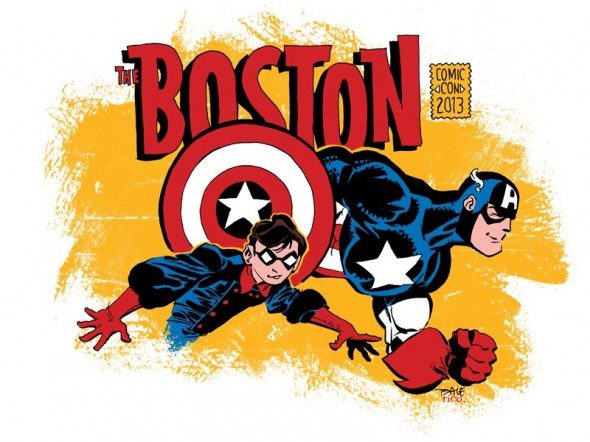 Press Release:
Boston Comic Con, Dick's Last Resort, and Newbury Comics are teaming up for the first pre-convention Boston Comic Con Costume Contest, being held at Faneuil Hall Marketplace.  The contest will raise awareness and excitement about Boston Comic Con's upcoming two-day comic book Convention to be held August 3-4 at Seaport World Trade Center.
Contestants of all ages are encouraged to dress up as their favorite Super Hero, comic book character, and beyond (all costumes should be family friendly).  The contest will kick off with a "Costume Parade" around Quincy Market, beginning and ending at Dick's Last Resort (Boston Comic Con will also host its annual Costume Contest "Cosplay" during the Convention on Sunday, Aug. 4 at 3 p.m. at the Seaport World Trade Center)
*Prizes*
Prizes for 1st, 2nd and 3rd place winners will be awarded.  1st place winner will receive a two, two-day passes to Boston Comic Con ($80 value) and a limited-edition T-shirt (priceless) 2nd place winner will walk away with a $100 gift certificate to Dick's Last Resort.  3rd place winner will be awarded a $50 gift certificate to Newbury Comics.
WHEN:   Wednesday, July 31, 2013
11:45 a.m  – 1 p.m.
Costume contestants will be asked to arrive at Dick's Last Resort at 11:45 a.m. to check in and register.  The parade will begin shortly after 12 p.m. and the final winners will be announced at 12:45 p.m.
The event is free and open to the public.  However, space is limited and contestants will be accommodated on a first come, first served basis.  Adults and children of all ages are welcome to compete!
JUDGING:   Judges will include representatives from Newbury Comics at Faneuil Hall, Faneuil Hall Marketplace  and Boston Comic Con.
WHERE: Dick's Last Resort
4 North Market Street
Faneuil Hall Marketplace
Boston, MA
For general inquiries please call 617-646-1066
Newbury Comics, a longtime exhibitor at Boston Comic Con, will be located at the Boston Comic Con Exhibition area in the Seaport World Trade Center.  Newbury Comics will be giving out free promotional items at Boston Comic Con so stop by and visit their booth !  Newbury Comics Faneuil Hall Marketplace store is located in the North Market building and is one of 28 stores all based in New England.  Newbury Comics is independently owned and operated by its original founder for more than 30 years and specializes in music, movies and pop culture goods.
About Dick's Last Resort at Faneuil Hall Marketplace
Dick's is located in the Historic Quincy Market at Faneuil Hall Marketplace in Boston.  It's just a napkin's throw away from the Harbor and the Boston Aquarium. Stop by and let yer hair down, enjoy some grub or toss back a few cold ones on our rockin' patio.  It's all in fun at Dick's in Boston, so come see why Dick has been infamous since the rowdy times began in 1993.
The 7th Annual Boston Comic Con on Aug. 3-4 at the Seaport World Trade Center features celebrity appearances by Laurie Holden of "The Walking Dead," Kristen Bauer of "True Blood," and actors Aidan Turner and Dean O'Gorman of "The Hobbit," as well as The Artist Alley with over 200 well-known and local guest comic book creators and comic book merchants from across the Northeast. Boston Comic Con also features a two-day film festival which will showcase feature and short films from local and national independent filmmakers on Saturday and zombie themed films on Sunday, a costume contest hosted by 'Cosplay ' favorite, Yaya Han, and a two-day Magic The Gathering tournament.
Additionally, on Saturday night Aug 3, from 5pm to 7pm, Boston Comic Con will feature a Comic Book Art Auction which will donate a portion of its proceeds to The Boston One Fund, in support of Boston Marathon victims and to the Mike Wieringo Scholarship Fund for aspiring comic book artists studying at the Savannah College of Art and Design.