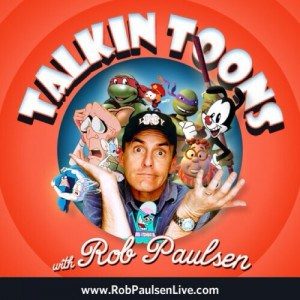 Voice actor Rob Paulsen appears at the National Press Club on Thursday August 1, 2013 at 6:30pm!
Get tickets ($10) at the link!
Press Release:
What do Yakko Warner and Dr. Otto Scratch'n'sniff of Animaniacs; Pinky of Animaniacs and Pinky and the Brain; the classic Raphael and current Donatello of Teenage Mutant Ninja Turtles; Carl Wheezer of Jimmy Neutron: Boy Genius; Bobble of Tinker Bell; and over 250 other animated characters have in common? They are all voiced by Rob Paulsen, award-winning voice actor extraordinaire.
With over thirty years of experience in the professional voiceover industry, and over 2,000 half-hours of animation and 1,000 commercial spots to his credit, it's a guarantee that at some point, you've heard Paulsen's voice emanating from your television. Now, hear him (and his characters) in person as he talks about his amazing career and experiences in the voiceover industry, answers audience questions, and signs autographs for his fans.
Paulsen's versatility as a voice actor shines in his many roles, which include, in addition to those listed above, Porky Pig, Arnold the Pit Bull, Fowlmouth, and Furrball in Tiny Toon Adventures; Mac Gopher in The Looney Tunes Show; Bird Brain in T.U.F.F. Puppy; Steelbeak in Darkwing Duck; The Riddler in Lego Batman: The Movie; Mark Chang in The Fairly OddParents; Toodles in Mickey Mouse Clubhouse; Spike in The Land Before Time; Throttle in Biker Mice from Mars; Stanley Ipkiss in The Mask TV series; Arthur in The Tick; and Gladstone Gander in DuckTales.
For his voice acting work, Paulsen has received three Emmy nominations, winning a Daytime Emmy Award for his role as Pinky. Paulsen has also been nominated for an Annie Award six times, winning twice for his role as Pinky and once for his role as Yakko Warner. Animaniacs, in which Paulsen played a key role, has also received numerous awards, including the George Foster Peabody Award in its debut season.
Along with his successful career in voice acting, in 2011 Paulsen started the popular "Talkin' Toons" podcast, in which he discusses his experiences in voice acting and chats with other accomplished members of the voiceover and animation industries. The podcast averages 80,000 listeners per month and has featured a plethora of industry guests, including Nancy Cartwright (voice of Bart Simpson), Debi Derryberry (Jimmy Neutron), June Foray (Rocky and Natasha from Rocky and Bullwinkle), Jim Cummings (Winnie-the-Pooh and Tigger) and Mark Hamill (the Joker on Batman: The Animated Series).
Admission for this event is free for NPC Members, $10 for general admission. This event is sponsored by The National Press Club's Young Members Committee.
National Press Club
529 14th Street NW, Washington, DC 20045