Press Release: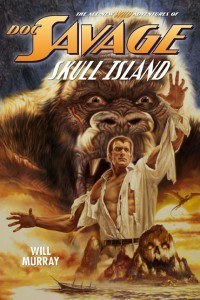 On Friday, July 26th, longtime Farmerphiles Win Scott Eckert and John Allen Small share center stage as part of PulpFest's popular "New Fictioneers" presentations.
A three-time New Fictioneer, Colorado's Win Scott Eckert will be reading from two new works: THE SCARLET JAGUAR, a novella featuring Patricia Wildman, daughter of a certain bronze champion of justice, and A GIRL AND HER CAT, the first new Honey West novel in over forty years.
John Allen Small, an award-winning journalist and columnist from Oklahoma, selects from a pair of short works for his reading. "The Bright Heart of Eternity" is a tribute to Edgar Rice Burroughs and Philip José Farmer. "Ghost of Thunder Isle" is featured in the new Moonstone Books anthology, THE AVENGER: ROARING HEART OF THE CRUCIBLE.
At 1 PM on Saturday, July 27th, writer, editor-in-chief of Airship 27, and two-time Pulp Factory Award winner, Ron Fortier, and five contemporary authors will gaze into their crystal balls to chart the road ahead for the new and exciting continuation of the pulp genre known as "New Pulp." Joining Ron will be Jim Beard, Win Scott Eckert, Rick Lai, Frank Schildiner, and Dr. Art Sippo.
1933 was not just the year of the hero pulp. On March 2 of that same year, RKO Radio Pictures premiered "the eighth wonder of the world," KING KONG, at New York's Radio City Music Hall and the Roxy.
To celebrate the 80th anniversaries of "The Man of Bronze" and KING KONG, Will Murray, author of "The Wild Adventures of Doc Savage," paired the two characters in his novel, SKULL ISLAND. On Saturday, July 27th, at 2 PM, PulpFest 2013 will host a special "New Fictioneers" reading of Mr. Murray's bestselling novel by Radio Archives' reader Roger Price.
Roger has performed on television, radio and the live stage. He works with a wide variety of clients as an announcer and voice actor, specializing in character/cartoon voices and dialects. For Radio Archives, he has read a number of short stories for their pulp audiobook series. Roger is also founder of 
Mid-Ohio-Con
, one of the largest and longest running comic book and popular culture conventions.
Jim Beard broke into the world of "New Pulp" in 2012 when Airship 27 published SGT. JANUS, SPIRIT-BREAKER, a collection of ghost stories featuring an occult detective, and CAPTAIN ACTION: RIDDLE OF THE GLOWING MEN, the first prose novel based on the 1960s action figure.
A columnist for the TOLEDO FREE PRESS, "The Beard" will be  finishing up Please visit www.pulpfest.com to learn more about Jim Beard and his work.
PulpFest's "New Fictioneer" programming. At 3 PM on Saturday, July 27th, Jim will be reading from his two Airship 27 books as well as a story from MONSTER EARTH, a shared-world anthology of giant monster tales.
For more, please visit www.pulpfest.com and be sure to register now for "summer's great pulp con!"