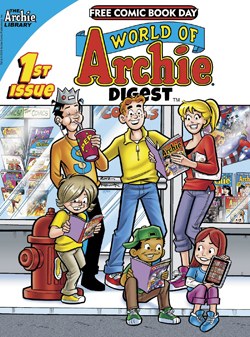 Fernando Ruiz, Andre Szymanowicz, Anthony Marques, Nick Justice, Fabio Redivo, and more sign on Dewey's Comic City on Saturday May 4, 2013 for Free Comic Book Day!!
ARTIST ALLEY / CREATOR SIGNINGS…
– Fernando Ruiz (Archie Comics artist/writer (Life with Archie), the US Army's PS Magazine, EPICS Comics co-creator, instructor at the Kubert School, Dover NJ)
– Anthony Marques (DC Comics Assistant Editor, artist, EPICS Comics artist/co-creator)
– Fabio Redivo (inker HELL YEAH (Image Comics), artist/co-creator EPICS Comics, instructor The Kubert School, Dover NJ, Graphic & Web designer Blue Fountain Media)
– Nick Justice (artist/creator Jesus E Lee, Pin Junkies (Webcomics Factory), artist Bluewater Comics)
– Andre Szymanowicz (artist HELL YEAH (Image Comics), colorist DC Comics, freelance artist)
– Adam McGoven (writer/ contributor Magic Bullet, writer (of the Ignatz-nominated) Dr. Id, Psychologist of the Supernatural, contributor Pood (Big If Comics), freelance writer)
– Max Fuchs (graduating 3rd year student at the Kubert School, freelance artist)
– additional creators t/b/a
+ FREE BONUS GOODIE BAGS…
The 1st 100+ guests in line on FCBD will receive a exclusive Dewey's Comic City FCBD Bonus GOODIE bag each filled with additional comics especially selected for our FCBD visitors from our back issue inventory! Seeded among the GOODIE bags will be collectible silver and bronze age back issues, limited edition variant cover comics and more! Special GOODIE bags for younger readers will also be available!
+ MORE…
– Exclusive! FREE copies of MAGIC BULLET #6 (Washington, D.C.'s free comics newspaper published by D.C. Conspiracy, a comics creators' collective in the capital region) Dewey's is the only place in Jersey to get this item on FCBD!
– additional bonus giveaways including Gacha capsules, HeroClix figures, Blackest Night Lantern rings and more!
Dewey's Comic City
13 Park Avenue, Madison, NJ 07940