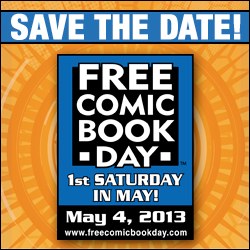 David Finch, Leonard Kirk, Jason Fabok, and more sign at Gotham Central Comics on Saturday May 4, 2013 for Free Comic Book Day!!
Press Release:
David Finch – Making his second Free Comic Book Day appearance at Gotham Central! David is known for his work with Marvel titles such as 'World War Hulk', 'X-men', and 'Captain America'. After winning The Joe Shuster Award for Outstanding Artist in 2009, he moved to DC Comics to write and draw their New 52 title 'Batman: The Dark Knight." He now draws The New 52 title 'Justice League of America'.
Jason Fabok – Gotham Central is proud to present Jason Fabok as he is now working on his own title for DC Comics. Working with writer John Layman on The New 52's 'Detective Comics', Fabok will be joining us for his second year for Free Comic Book Day.
Mike Del Mundo – Born in the Philippines and now local to Toronto, Ontario, Mike Del Mundo is known for his amazing cover work for Marvel. His art spans a large amount of Marvel titles including Marvel Now's 'Avengers Arena', 'X-Men Legacy', and 'Marvel Zombies'. This is the first time we will be hosting Mike and are pleased to add him to our roster.
Leonard Kirk – Leonard has worked on many titles spanning both Marvel and DC Comics. His work can be found on fan favorites like 'Aquaman', 'Detective Comics', 'Supergirl', 'Ultragirl' and 'Dark X-Men'. This is also the first time Leonard has appeared at Gotham Central.
Spent Pencils – Spent Pencils is a collective group of 20+ local artists with various talents. From painters, anime artists, digital artists and skilled pencil workers, the crew of Spent Pencils bring an amazing amount of talent to any event.
Mark Bertolini – A Local Comic writer with a few titles under his belt. Mark has just launched the first issue of this new title 'Broken' for Free!
Nicholas Lukic – Nicholas is a local independent filmmaker, artist and writer, currently working on his own comic book series and short films. He will also be at Niagara Falls comic con with local artist Andrew Armelim.
Andrew Armelim – Andrew is a Independent comic illustrator and graphic designer. His most recent work can be found in the promotional posters for 'DragonBall Z: Saiyan Saga' and is working on a project to bring back a lovable 80's character in a fresh new comic series drawn by himself.
Chris Burke – Also known as Toronto Joker or That Joker Guy, Chris' photo-realistic renderings of beloved characters as well as his own comic 'Comic Sins' always garner attention of their own next to his painted face.
Character Attractions:
Toronto Deadpool – He is everyone's favorite Merc with a Mouth and here's hoping he brings a chimichanga cart with him.
Toronto X-Men – The Gang is all here to represent Mutant Kind and keep us all safe from Magneto and the Brotherhood's elitist ways.
Toronto Ironman – It wouldn't be a party without Marvel's favorite billionaire, playboy, genius, philanthropist in attendance. Comes completely suited.
Ontario Ghostbusters – Do you experience feelings of dread in your basement or attic? Have you or your family ever seen a spook, spectre or ghost? If the answer is "yes," then don't wait another minute. Pick up the phone and call the professionals…
Back to the Future DeLorean – If you're gonna build a time machine into a car, why not do it with some style? Take a trip in the front seat of the famed DeLorean and have photographic proof of the trip. If you meet Darth Vader and he tells you he's from planet Vulcan… something is a muck.
Arkham Batman and Robin – Sworn to protect the city of Gotham after the death of his parents, Bruce Wayne adopts the name of Batman… and a boy wonder to aid him. Towering at 6'10, you can't miss this opportunity to meet the ultimate Batman and Robin combo.
That Joker Guy – And what would the Dynamic Duo do all day if we didn't provide them with a villain? Why so serious?
Other Activities:
Hourly prizes and draws, raffles, contests and more!
Gotham Central Comics
5170 Dixie Road Unit 102, Mississauga, Ontario L4W 1E3
Canada