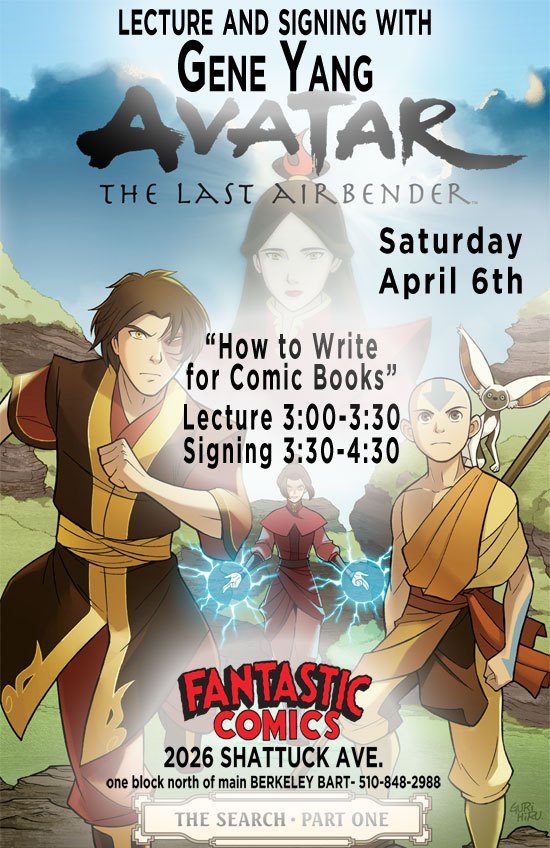 Gene Luen Yang speaks and signs at Fantastic Comics on Saturday, April 6, 2013 from 3:00 until 4:30 pm!
Before the Avatar: The Last Airbender books, I'd written for other artists.  The Eternal Smile was written by me and drawn by Derek Kirk Kim.  Level Up was written by me and drawn by Thien Pham.  In each of those cases, though, I thumbnailed.  The artist didn't always follow my thumbnails, but I still communicated visually with them.
The Airbender books are the first time I've turned in scripts that are pure words.  I've had to do a lot of thinking.  How do you lay the foundations of a visual story using just words?  I've also read a bunch of advice by words-only writers that I admire: Dwayne McDuffie, Peter David, Alan Moore, Mark Waid.
On Saturday, April 6 at 3pm, I'm going to present some of the stuff I've learned at Fantastic Comics in Berkeley.  I'm gonna talk about writing comics from a words-only perspective.  I'm also gonna talk about Aang and Co.  If you're in town, come by!
Fantastic Comics
2026 Shattuck Avenue Berkeley, CA 94704
(510) 848-2988