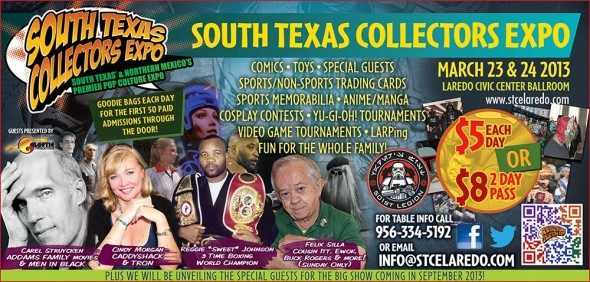 Press Release:
The South Texas Collectors Expo returns to the Laredo Civic Center on Saturday March 23rd and Sunday March 24th. The event runs from 10:00 am to 5:00 pm both days and admission is $5.00 per day or a special two day pass can be purchased for $8.00 on Saturday. The show will feature a wide variety of collectibles to include comics, toys, sports collectibles, steampunk jewelry, autographed memorabilia, tournaments, anime/manga and many other types of collectibles related to pop culture.
Special guests for this event will include Cindy Morgan from Tron, Caddy Shack, Falcon's Crest and many other movies and television series and Carel Struycken, who has a long list of credits, such as the Addams Family Movies, where Carel played the role of Lurch. Carel also appeared in Men in Black, Star Trek the Next Generation, Witches of Eastwick and Sgt Pepper's Lonely Hearts Club. Making a special appearance on Sunday only will be Felix Silla, Cousin Itt from the Original Addams Family Television Series, Buck Rogers, Star Wars: Return of the Jedi, The original Planet of the Apes and many other television and movie roles. Reggie "Sweet" Johnson who was a three time world champion boxer will also appear on Saturday and Sunday. Johnson's notable opponents have included Antonio Tarver, Roy Jones Jr and James Toney.
The South Texas Collectors Expo will also be host to a Yu-Gi-Oh Tournament, a video game tournament hosted by INation Gaming which will include a Call of Duty: Black Ops 2 Tournament, a Mortal Kombat Tournament and a Super Smash Brawl Tournament. Also making their appearance at the South Texas Collectors Expo this weekend is Paragon's Cross a Live Action Role Playing (LARPing) organization who will also being holding demonstrations and tournament over the course of the weekend.
The South Texas Collectors Expo will also be announcing some of the guests that are scheduled to appear in September for the South Texas Collectors Expo: THE BIG SHOW.
For more information on the event please visit the website for the event at www.STCELaredo.com or visit their FACEBOOK page at www.facebook.com/collectors.expo.