Press Release:
REVOLUTION BREWING TO CREATE BEER EXCLUSIVELY FOR THE CHICAGO COMIC & ENTERTAINMENT EXPO (C2E2)
"Galaxy Hero" Beer to be Launched at Tap Room Party on April 4!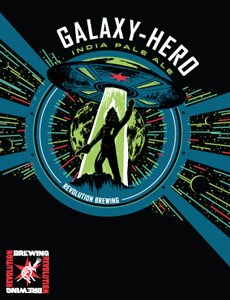 Norwalk, CT, March 14, 2013: The Chicago Comic & Entertainment Expo (C2E2) has today announced that Chicago's Revolution Brewing will create a beer exclusively for C2E2's audience of pop culture enthusiasts and comic book fans. "Galaxy Hero", which is described by Revolution Brewing as a beer which "shoots a raygun blast of Galaxy and Zythos hops into your mouth and leaves a crisp, dry finish" is a superhero's beer for a superhero-loving audience. The new, exclusive IPA beer will be available for tasting at a debut party sponsored by C2E2 and Revolution Brewing on April 4 from 7:00 PM – 9:00 PM at the Revolution Brewery Tap Room, located at 3340 N. Kedzie Avenue. Everyone who RSVPs will get at least one drink ticket for a complimentary Galaxy Hero! The beer will also be available in several locations throughout Chicago in the weeks leading up to C2E2 and at the bar in the Hyatt Regency McCormick Place Hotel during C2E2.
Launched in 2010, C2E2 has quickly become the largest and most influential pop culture event in the Midwest attracting top comics, entertainment and literary guests and artists. This year's convention will be no exception. Ticket sales are currently running 75% ahead of this time last year and just a few of the guests who have already been announced include Kevin Smith, Alex Ross, J. Michael Straczynski, R.L. Stine, Adam West, Burt Ward, Julie Newmar, Peter Davison and Felicia Day. Many more high profile guest announcements will be made in the next month.
C2E2 will take place April 26 – 28 in the West Building at McCormick Place Convention Center.
"I love beer. I love comics. I love Chicago. This is the greatest thing we've ever done!" notes Lance Fensterman, Global Vice President for ReedPOP and Show Manager for C2E2. "This tasty partnership only proves what I have always believed to be true – that pop culture influences are everywhere in our lives. Thanks to the folks at Revolution Brewing, artists in their own right for creating this hoppy masterpiece just for C2E2, our fans and yes, the staff. Cheers!"
Josh Deth, Owner of Revolution Brewing and "Chairman of the Party," comments: "I took my kids to C2E2 last year and it was a blast, so it is super cool to be brewing up Galaxy IPA for this year's show!"
Tickets for C2E2 are currently on sale at www.C2E2.com. Anyone interested in exhibiting at the Chicago Comic & Entertainment Expo should contact Larry Settembrini, Larry@ReedPOP.com. As noted, more guests and activities will be announced in the month ahead and fans should keep their eyes on C2E2's website for additional comics and entertainment announcements.
ABOUT REEDPOP: ReedPOP is a boutique group within Reed Exhibitions which is exclusively devoted to organizing events, launching and acquiring new shows, and partnering with premium brands in the pop culture arena. ReedPOP is dedicated to producing celebrations of popular culture throughout the world that transcend ordinary events by providing unique access and dynamic personal experiences for consumers and fans. The ReedPOP portfolio includes: New York Comic Con (NYCC), Chicago Comic & Entertainment Expo (C2E2), Penny Arcade Expo (PAX) Prime & East, Star Wars Celebration, and the UFC Fan Expo. In 2013 ReedPOP will add Star Wars Celebration Europe and PAX Australia to its rapidly expanding portfolio of international events. The staff at ReedPOP is a fan based group of professionals producing shows for other fans, thus making them uniquely qualified to service those with whom they share a common passion. ReedPOP is focused on bringing its expertise and knowledge to world communities in North America, South America, Asia and Europe.
ABOUT REVOLUTION BREWING: Revolution Brewing is Chicago's new hometown craft brewery. Our brewpub in Logan Square is a bustling, neighborhood institution where friends and families meet to enjoy the freshest beer in town. Opening our brewery has been a labor of love. We think you can see that in everything we do ranging from the details of our carved fists holding up our mahogany bar to the pungent hop aroma of our Anti-Hero IPA to our creative dishes like our bacon-fat popcorn.
The growth of craft breweries in the U.S. has been nothing short of a revolution and we're proud to be standing tall in this new crowd. The changing tastes of beer drinkers demand bigger flavors and more variety. That's exactly what we give you at Revolution Brewing. Our brewpub produces about 50 different beer styles each year. We've got session beers like Workingman Mild, hop-bombs like Double Fist and more bourbon barrel aged beers than you can shake a stave at. We have fun doing what we do and invite you to come in and join us.