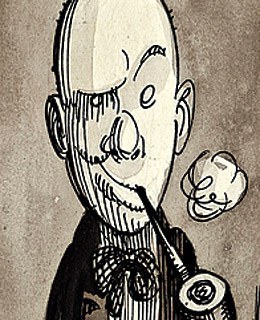 Legendary artists Drew Friedman, Robert Grossman, Al Jaffee, and Arnold Roth will discuss the life and works of Harvey Kurtzman with a panel moderated by Peter Kuper on March 19, 2013  6:30 p.m. – 8:30 p.m. at the Society of Illustrators.   
Tickets
$15 non-members, $10 members, $7 students/seniors
ABOUT THE ARTISTS 
Drew Friedman is an award-winning illustrator whose work regularly appears in dozens of major publications.  For years he was renowned for his "stippling" style of caricature, employing thousands of pen-marks to achieve photographic verisimilitude, but in recent years Friedman has switched to painting.  His painstaking attention to detail and parodies of Hollywood icons is widely admired.  Friedman's work has appeared in Entertainment Weekly, Newsweek, Time, The New York Times, The Wall Street Journal, The New Yorker, The New Republic, The New York Observer, Esquire, RAW, Rolling Stone, and MAD Magazine.  He is a graduate of SVA and studied under such legendary masters as Will Eisner, Ed Sorel, Stan Mack, Arnold Roth, and Harvey Kurtzman.
Robert Grossman is a New York artist whose work has appeared in The New York Times, The Nation, The New Yorker, The New York Observer, Rolling Stone and many other publications.  Grossman also works as a sculptor, filmmaker, and author and has published numerous titles including ZooNooz and O-MANLAND, an online compilation of strips focusing on the 2008 presidential race.
Al Jaffee is best known for his satirical work in MAD Magazine, and today remains a regular contributor having only ever missed one issue of MAD in the last 57 years. Jaffee's trademark feature, the Mad Fold-in, was created in 1964 and a four-volume boxed set of hardcovers,The Mad Fold-In Collection: 1964-2010, was published by Chronicle Books in September 2011.  In 2008 Jaffee was honored by the Reuben Awards as Cartoonist of the Year. He has also received the National Cartoonists Society Advertising and Illustration Award in 1972, its Special Features Award in 1971 and 1975, and its Humor Comic Book Award in 1979.
Arnold Roth has been a humorous illustrator and cartoonist all his life and, for most of that time, has freelanced, snatching a living by hustling one assignment after another in a highly competitive market.  Roth's big breakthrough came in 1957 when he started working on Trump, Playboy's satiric magazine, and on Humbug, a more penurious production, both the inventions of Harvey Kurtzman.  His work has appeared regularly in major magazines including Sports Illustrated, Esquire, Holiday, Time, The New York Times, The New Yorker and countless others.  In 1983, Roth was elected president of the National Cartoonists Society and the next year received the NCS Reuben Award as Cartoonist of the Year.
Peter Kuper's illustrations and comics appear regularly in Time, Newsweek, The New York Times, and MAD, where he illustrates SPY vs. SPY every month.  He has written and illustrated many books including Comics Trips, a journal of an eight-month trip through Africa and Southeast Asia.  In 1979 he co-founded the political comix magazine World War 3 Illustrated.
Society of Illustrators
128 East 63rd Street, New York, NY 10065