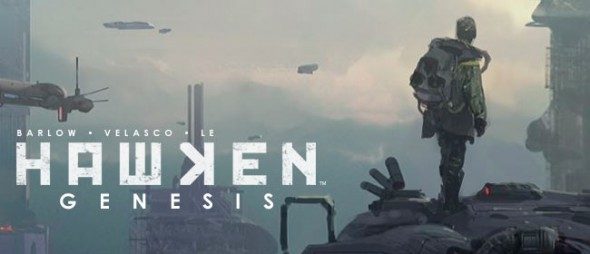 Press Release:
ARCHAIA IS OFF TO EMERALD CITY COMICON!
Archaia launches its 2013 convention season at the largest comics and pop culture convention in the Pacific Northwest, highlighted by the debut of HAWKEN: GENESIS, signing sessions, and special giveaways!
Seattle, WA (February 28, 2013) – Award-winning publisher Archaia Entertainment is excited to announce it will be exhibiting at Emerald City Comicon (ECCC), taking place March 1-3, 2013 at the Washington State Convention Center in Seattle, Washington!
Several Archaia creators will be on hand to sign copies of their books or promotional items at the Archaia booth (#808), including: Andrew E. C. Gaska (Critical Millennium: The Dark Frontier, Conspiracy of the Planet of the Apes, Space: 1999: Aftershock and Awe); Chandra Free (The God Machine, Fraggle Rock Vol. 2); Charles Soule (the upcoming Strange Attractors); Dave Marquez (Syndrome, Days Missing Vol. 2: Kestus, the upcoming The Joyners in 3D); David Petersen (Mouse Guard); Royden Lepp (Rust); Yehudi Mercado (Pantalones, TX).
Special advance copies of the HAWKEN: GENESIS anthology graphic novel hardcover, which is based on the hit online, free-to-play mech game from Meteor Entertainment, will debut at ECCC and be available for sale. Writers Khang Le and Jeremy Barlow will be on hand to sign copies at the Archaia booth (#808) and at the Meteor booth in the Gaming Area.
In addition, a promotion through FourSquare will give fans the chance to win a prize pack comprised of autographed copies of Mouse Guard Vol. 1: Fall 1152, Rust Vol. 1: Visitor in the Field, and HAWKEN: GENESIS. Just be sure to check in at the Archaia booth through the FourSquare app on your iOS or Android phone once you're at the show and you're automatically entered!
For programming, Archaia will put on an exciting, entertaining panel at the show:
Archaia Presents: How I Broke in to Comics (and How You Can, Too!)
Friday, March 1, 4-5pm, Room 3AB
Ever wonder how some of your favorite creators broke in to comics, or were curious how some up-and-comers get to be "up-and-comers"? Join some of Archaia's creators for a lively discussion of how they got their first break in comics, and to hear their advice on how you can, too! Panelists include Chandra Free (The God Machine, Fraggle Rock), Andrew E.C. Gaska (Space: 1999: Aftershock and Awe, Conspiracy of the Planet of the Apes), Royden Lepp (Rust), David Marquez (Syndrome, The Joyners in 3D), Yehudi Mercado (Pantalones, TX), David Petersen (Mouse Guard), and Charles Soule (Strange Attractors).

About Archaia Entertainment, LLC

Archaia is a multi-award-winning graphic novel publisher with more than 75 renowned publishing brands, including such domestic and international hits as Mouse Guard, Return of the Dapper Men, Rust, Gunnerkrigg Court, Old City Blues, Awakening, The Killer, Syndrome, Artesia; and an entire line of The Jim Henson Company graphic novels, such as Tale of Sand, The Dark Crystal, The Storyteller, and Fraggle Rock. Archaia has built an unparalleled reputation for producing meaningful content that perpetually transforms minds, building one of the industry's most visually stunning and eclectic slates of graphic novels. In 2012, Archaia was honored with six Harvey Award nominations, two Harvey Awards, six Eisner nominations, and three Eisner Awards (Jim Henson's Tale of Sand won for Best Graphic Album–New, Best Penciller/Inker, and Best Publication Design). Also in 2012, Archaia earned both Gold and Silver awards from ForeWord Reviews. In 2011, Archaia was honored with nine Eisner Awards nominations and two Eisner Awards for Best Graphic Album and Best Anthology. Archaia was named Graphic Novel Publisher of the Year by Ain't It Cool News, Comic Related, and Graphic Policy, which honored the publisher two years in a row. In addition to print and digital publications, Archaia has successfully emerged as a prolific storyteller in all facets of the entertainment industry, extending their popular brands into film, television, gaming, and branded digital media. For more information, visit the Archaia website atwww.archaia.com.