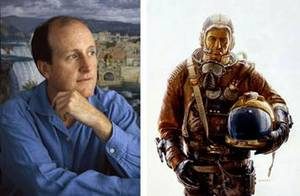 Artist James Gurney speaks at WPI on Thursday, February 21st at 7:00 pm!
Kinnecutt Hall, Salisbury Labs 115
James Gurney is best known as the creator of Dinotopia, the Hugo Award-winning book series that spawned a mini-industry of TV shows, video games and an animated feature film. He specializes in "painting realistic images of scenes that can't be photographed." His work has appeared in National Geographic magazine, the Smithsonian and Norman Rockwell Museums, and on United States postage stamps. His most recent book, Color and Light: A Guide for the Realist Painter (2010) was Amazon's #1 bestselling book on painting for over 52 weeks.
Mr. Gurney is also a highly sought-after lecturer, appearing everywhere from Disney to Dreamworks to Lucasfilm to Blizzard. His WPI lecture, titled "Worldbuilding," will include a live demonstration of his amazing technique.
The Interactive Media and Game Development (IMGD) lecture series brings in influential people from academia and industry to speak on topics relevant to IMGD. These sessions are formal presentations open to the general public.
Worcester Polytechnic Institute
100 Institute Road, Worcester, MA 01609-2280