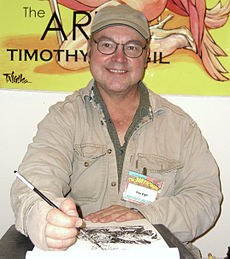 Tim Vigil signs at Heroes and Villains on Saturday February 2nd, 2013!
Press Release:
Save the date now for this very special signing.
Tim Vigil will be signing at Heroes and Villains Comics!!! Stay tuned for more information and signing times. Own a piece of incredible original art! If you are interested in a commissioned piece, please contact the store asap with your request. A 9X12 pencil is $30, inked is $60.
Tim Vigil is a comic book artist, mostly working in the horror/adult genre. His main graphic novel Faust (with co-creator David Quinn) was adapted by Brian Yuzna as the 2001 movie Faust: Love of the Damned. The followup Faust: Book of M, was nominated for the 1999 Bram Stoker Award for Best Illustrated Narrative. He received his first popular exposure for his work on the comic title Grips, published by the defunct publisher Silverwolf Comics.
Heroes and Villains Comics
264 Main Street, Pleasanton, CA 94566
925-399-5352