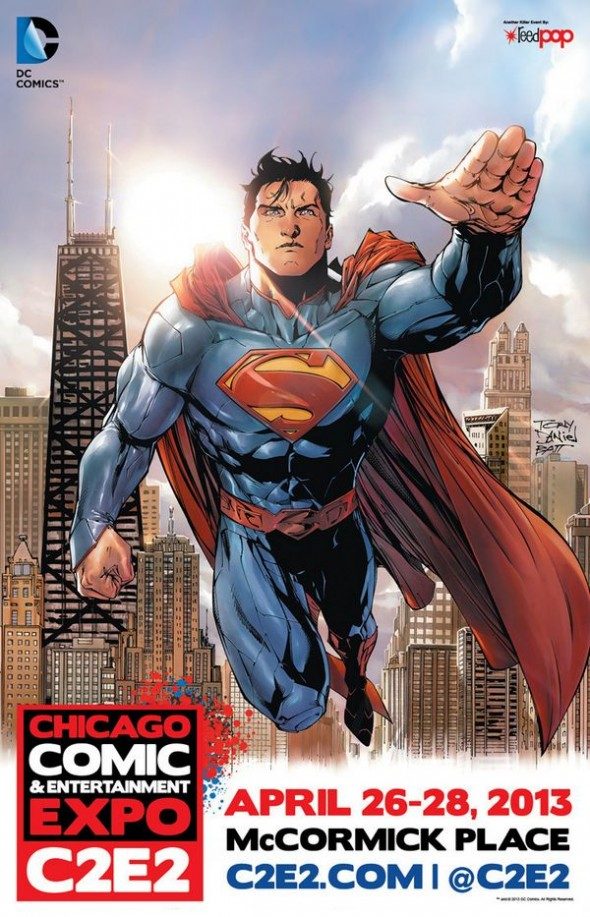 Press Release:
DC ENTERTAINMENT REVEALS POSTER ART FOR THE CHICAGO COMIC & ENTERTAINMENT EXPO (C2E2)
Superstar artist Tony S. Daniel Creates Original Drawing Featuring Superman!

Norwalk, CT, Friday, January 18: DC Entertainment – the renowned comic book publisher and media entertainment company – has today revealed that they will provide the original poster art for the 2013 edition of the Chicago Comic & Entertainment Expo (C2E2). The exclusive art will feature Superman in an iconic Chicago setting. The poster will figure prominently in C2E2's advertising and promotion and will be featured at the convention as well as in Chicago area retailers and on transit trains and buses throughout Chicago leading up to the show. Famed DC artist Tony S. Daniel (ACTION COMICS) has drawn the powerful new image of Superman flying over the Chicago skyline. Daniel will also be a Spotlight Guest at C2E2 in 2013.
This year's C2E2, which is produced by the organizers of New York Comic Con (NYCC), is expected to attract thousands of loyal fans making this convention the largest pop culture extravaganza in the Midwest. It will take place April 26 – 28, 2013 in the West Building at the McCormick Place Convention Center.
"Each year I am always encouraged by the tremendous support that DC Entertainment provides at our shows," notes Lance Fensterman¸ Group Vice President for ReedPOP and Show Manager for C2E2. "This year is obviously no exception and this early announcement is a great way to be setting the stage for C2E2. The poster art is a key element of our show and a critical part of our marketing strategy. This year's image reflects the strength and dynamism of C2E2 and I am incredibly grateful to Tony Daniel for contributing his time and effort on our behalf. He is a brilliant artist and he has created what will be a lasting image for C2E2 in 2013."
Once again, DC Entertainment will have a presence at C2E2 with an interactive booth where fans will have room and opportunity to meet with creators and staff.
ABOUT TONY S. DANIEL: A life long Chicagoan residing now in the Northern Suburbs, Tony has dedicated himself to the creation of comic books. Tony started his career at indie publisher, Comico, drawing the cult classic , "Elementals." Soon after, Tony moved over to Marvel Comics' "X-Force" and "Gambit and the X-ternals." Tony then worked with the legendary Alan Moore at Image's "Spawn: Bloodfued" before going on to create his own indie books, such as "The Tenth," "Adrenalynn," "F5" and "Silke" for Image and Dark Horse Comics. Going back to the mainstream, Tony has worked at DC comics since 2004 on books like "Teen Titans" and, most notably, "Batman" with superstar writer Grant Morrison, before writing and drawing his own run on "Batman" following the "Battle For the Cowl" event. Tony relaunched the New 52 "Detective Comics" which he both worked on as writer and artist. Tony's most recent assignment involves Superman in the pages of Action Comics with writer Andy Diggle.
Tickets for C2E2 are currently on sale at www.C2E2.com. Anyone interested in exhibiting at the Chicago Comic & Entertainment Expo should contact Larry Settembrini, Larry@ReedPOP.com. Organizers note that many more guests and activities will be announced in the months ahead and fans should keep their eyes on C2E2's website for additional comics and entertainment announcements.
ABOUT REEDPOP: ReedPOP is a boutique group within Reed Exhibitions which is exclusively devoted to organizing events, launching and acquiring new shows, and partnering with premium brands in the pop culture arena. ReedPOP is dedicated to producing celebrations of popular culture throughout the world that transcend ordinary events by providing unique access and dynamic personal experiences for consumers and fans. The ReedPOP portfolio includes: New York Comic Con (NYCC), Chicago Comic & Entertainment Expo (C2E2), Penny Arcade Expo (PAX) Prime & East, Star Wars Celebration, and the UFC Fan Expo. In 2013 ReedPOP will add Star WarsCelebration Europe and PAX Australia to its rapidly expanding portfolio of international events. The staff at ReedPOP is a fan based group of professionals producing shows for other fans, thus making them uniquely qualified to service those with whom they share a common passion. ReedPOP is focused on bringing its expertise and knowledge to world communities in North America, South America, Asia and Europe.
ABOUT DC ENTERTAINMENT: DC Entertainment, home to iconic brands DC Comics (Superman, Batman, Green Lantern, Wonder Woman, The Flash), Vertigo (Sandman, Fables) and MAD, is the creative division charged with strategically integrating its content across Warner Bros. Entertainment and Time Warner. DC Entertainment works in concert with many key Warner Bros. divisions to unleash its stories and characters across all media, including but not limited to film, television, consumer products, home entertainment and interactive games. Publishing thousands of comic books, graphic novels and magazines each year, DC Entertainment is the largest English-language publisher of comics in the world. In January 2012, DC Entertainment, in collaboration with Warner Bros. and Time Warner divisions, launched We Can Be Heroes-a giving campaign featuring the iconic Justice League super heroes-to raise awareness and funds to fight the hunger crisis in the Horn of Africa.