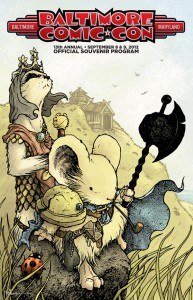 Press Release: 
The Baltimore Comic-Con is happy to announce the return of David Petersen for our 14th annual show, taking place September 7-8, 2013 at the Baltimore Convention Center.
Petersen, who is best known for his work on Mouse Guard, an ongoing collection of mini-series published by Archaia Studios, is a cartoonist children's book illustrator who began his career in 2004 with the release of Voices – a self-published anthology from ComiXpress. Possessing a distinctive art style reminiscent of A.A. Milne (creator of Winnie the Pooh), Petersen has worked on such comics as The Dark Crystal, Snowy Valentine, and Muppets & Fairytales from Archaia, as well as the Teenage Mutant Ninja Turtles Micro-Series from IDW. His artwork also graced the cover for the 2012 Baltimore Comic-Con program, as well as the show-exclusive t-shirt.
In 2008, David won the Eisners for Best Publication for Kids (Mouse Guard Fall 1152 & Winter 1152) and Best Graphic Album – Reprint (Mouse Guard Fall 1152 Hardcover). In 2010, he was nominated for a Harvey Award for Best Artist (Mouse Guard: Winter 1152).
"David is one of the most talented cartoonists working in comic today and we couldn't be happier to have him returning to Baltimore again this year," said Marc Nathan, show promoter of the Baltimore Comic-Con. "His beautifully rendered artwork truly brings a fine art element to the world of sequential storytelling and to Baltimore!"
Petersen joins already announced guests: Mark Buckingham (Fables); Frank Cho (Savage Wolverine); Dave Gibbons (The Secret Service); Adam Hughes (Before Watchmen: Dr. Manhattan); Barry Kitson (Empire); Paul Levitz (World's Finest); Mike Mignola (Hellboy In Hell); George Perez (World's Finest); Chris Samnee (Daredevil); Louise Simonson (X-Factor); Walt Simonson (The Mighty Thor); Allison Sohn (sketch card artist); and Mark Waid (Indestructible Hulk).
In the coming weeks, look for more announcements from the Baltimore Comic-Con. We are looking forward to highlighting our guests, the Harvey Awards, industry exclusives, and programming. The latest developments can always be found on our website, Twitter, and Facebook pages.