Press Release:
DARK HORSE DIGITAL RELEASES OFFICIAL ANDROID APP
The ultimate reading experience from the leader in independent comics is now available on Google Play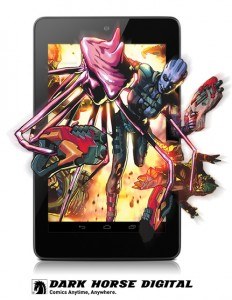 November 7, MILWAUKIE, OR—The highly rated, user-friendly Dark Horse Comics app is getting an official launch in Android. Comics fans of all ages can get Dark Horse comics on any Android-based tablet, phone, or laptop.
The final version of the fan-favorite Android app was finalized just in time to coincide with BioWare's inaugural N7 Day.
The first annual N7 Day invites fans to celebrate the Mass Effect franchise worldwide, and what better way to do so than with the many critically acclaimed Mass Effect comics from Dark Horse.
Dark Horse Digital is offering a Blasto digital-comic exclusive for Mass Effect fans. Written by lead game writer Mac Walters, with art by Omar Francia, Blasto: Eternity Is Foreveris sure to be a cult favorite among fans of the incredibly popular game series.
Dark Horse Comics continues to pave the way as the premier publisher of video-gaming-related titles and the leader in independent digital comics.
The free Dark Horse Digital comics app is now available worldwide through all modern web browsers and features cloud storage in both the Android and iOS apps.
About Dark Horse Digital
Founded in 1986 by Mike Richardson, Dark Horse Comics has grown to become the third-largest comics publisher in the United States and is acclaimed internationally for the quality and diversity of its line. In 2011, the company that revolutionized the comic industry proudly presented its groundbreaking digital-publishing program, Dark Horse Digital.
Dark Horse Digital offers its most popular titles at an unprecedented value, while providing the highest-quality reading experience possible. Single-issue comics are priced as low as just $0.99, and there is also an extensive list of free introductory #1 issues. Additionally, DH Digital's "bundles" group together story arcs spanning multiple issues into affordable packages, allowing readers to get all the issues that comprise a complete narrative, starting at just $3.99 and up. And through cloud-based technology, Digital Store purchases can be read and enjoyed on your laptop, desktop, mobile browser, and Dark Horse Bookshelf app, available now on iTunes.
To get started, simply log on to Digital.DarkHorse.com or download the app to create an account, and begin building your collection today.