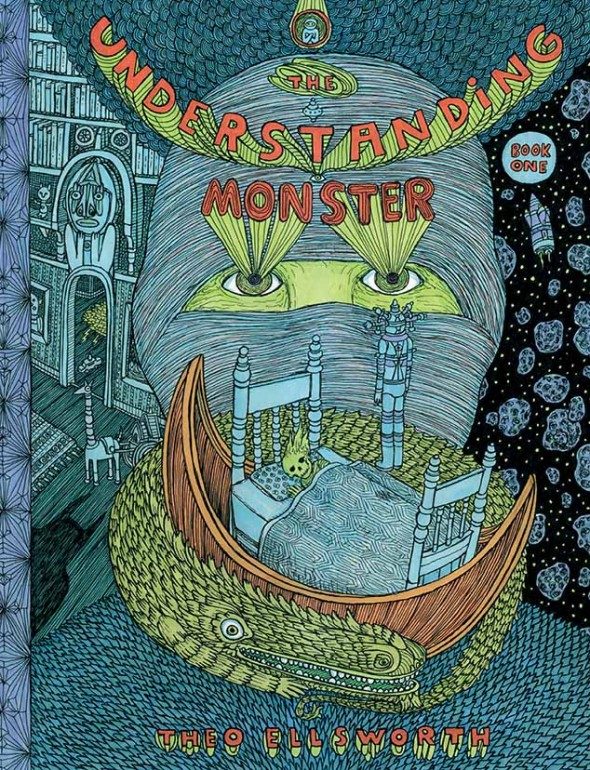 Theo Ellsworth appears at Floating World Comics on Thursday, November 1, 2012 from 6:00 – 10:00 pm.
Press Release:
Theo Ellsworth's previous book from Secret Acres, Capacity, had the honor and distinction of making our year end bestseller's list for the past 3 years in a row. We are proud to invite our hometown hero back to Portland to celebrate the release of his latest full color graphic novel, THE UNDERSTANDING MONSTER.
In Theo Ellsworth's celebrated debut, Capacity, the author embarked on a hand drawn quest to gain complete access to his own subconscious without going insane. With the reader as his witness, the author successfully smuggled an imaginary version of his own brain into his subconscious. Such quests, it turns out, are not to be taken lightly. Four years later, the author's brain is nowhere to be found. Inside of a house full of mutating rooms and growing toys, a multi-dimensional robot, a Werewolf Exorcist, a ghost dragon, a fly, a green cloud, and a recently reanimated mummy are attempting to rescue a complicated being named Izadore. He faces psychological terror, mind-bending confusion, and physical danger as he undergoes a dream logic medical treatment that pulls him back through time and memory. The Understanding Monster – Book One is an exquisitely rendered exploration into the inner workings of an imaginary world.
The Understanding Monster – Book One published by Secret Acres, will be in stores in October, 2012. His comics are available at finer comic shops and online through the Secret Acres Emporium at www.secretacres.com.
Bio information:
Theo Ellsworth is a self-taught artist and storyteller who grew up in the mountains of Montana. He developed his art while wandering the United States in a motor powered vehicle. He is uncommonly fond of clouds, monsters, trees, and impossible objects. He is prone to fits of whimsy, and his mind is filled with preposterous notions, yet he still manages to come across as semi-normal. He now lives with a witch doctor and a slightly evil cat, and spends as much time as possible making comics, art zines, and imaginary phenomenon. He also co-founded the Pony Club gallery. He has replaced his motor powered vehicle with a two-wheeled, human-powered contraption.
Floating World Comics
400 NW Couch Street, Portland, OR 97209
(503) 241-0227