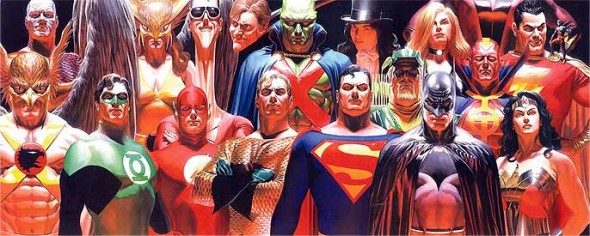 Alex Ross appears at the Norman Rockwell Museum on Saturday November 10, 2012 from 6:30 pm – 8:30 pm. Commentary at 7 p.m. Autographs (limit of 2 – 3 items per person) with the artist to follow.
Press Release:
Over the last two decades, caped crusaders have literally been flying off the pages and covers of comic books and graphic novels, due in large part to the work of one very talented illustrator: Alex Ross. Known for his unique, photorealistic renderings of such beloved superheroes as Superman, Batman, and Spider-Man, Ross helped revitalize the comic book industry, capturing a new generation of readers, and bridging the gap between comic and fine art.
This fall, Norman Rockwell Museum will present a comprehensive look at the career of the artist who has been called "the Norman Rockwell of the comics world." "Heroes & Villains: The Comic Book Art of Alex Ross" will be on view at the Museum from November 10, 2012 through February 24, 2013.
"Heroes & Villains" is the first museum exhibition celebrating the art of Alex Ross. Organized by the Andy Warhol Museum in Pittsburgh, Pennsylvania, the exhibition features more than 130 works, including paintings, drawings, photographs, and sculptures from Ross' personal collection. Spanning the artist's life and career, the exhibition features rarely-seen works—from his early crayon drawing of Spider-Man, created at the age of four, to his groundbreaking work for such books as "Marvels," "Justice," and "Kingdom Come." "Heroes & Villains" reveals Ross' personal and artistic goal to redefine comic books for a new generation. The exhibition also pays homage to the artist's inspirations, including original work by his mother Lynette Ross (who was also a successful illustrator), Frank Bez, Andrew Loomis, and Norman Rockwell. Also featured in the exhibition are works by Andy Warhol, a huge comic book fan, including his "Myths" series, which mirrors many of the subjects depicted in Ross' work.
"Norman Rockwell Museum is thrilled to be able to present the work of Alex Ross," says Museum Director/CEO Laurie Norton Moffatt. "Just as millions of readers in the 20th century were introduced to the world of art courtesy of Norman Rockwell, that tradition continues today thanks to Ross' beautifully painted illustrations, which combine photographic realism and imaginative storytelling."
"Norman Rockwell has been one of the greatest influences on my art, and it is an enormous honor to be featured in the museum dedicated to his work," notes Alex Ross. "I have always looked upon Rockwell's style as the peak of what one could hope to achieve artistically. The artist's realistic execution and eye for composition are things I aspire to, knowing that he performed a quality of work that isn't easily achieved. It is a major career achievement for me to have my work in company with his."
A members opening event for the exhibition will be held on Saturday, November 10, from 6:30 to 8:30 p.m., with a rare appearance by Alex Ross, who will also be conducting a book signing during the evening event.
About Alex Ross
Born in Portland, Oregon in 1970 and raised in Lubbock, Texas, Alex Ross grew up in a world of colorful, painted images. Ross's mother Lynette was a successful illustrator in the 1940s and 1950s, the same time that Norman Rockwell was becoming a household name.
At just three years of age, Ross was drawing TV commercials from memory. The following year, he began drawing images of his favorite superheroes—Superman, Captain Marvel, and Plastic Man. By the time he was 13, he was drawing and scripting comic books. At the age of 17, Ross went on to study painting at the American Academy of Art in Chicago, where he was influenced by Salvador Dali's hyperrealism, as well as by such classic American illustrators as Norman Rockwell and J.C. Leyendecker.
Ross began his professional career as a storybook artist for an advertising agency. At the age of 19 Ross received his first comic assignment from Marvel Comics – a comic titled "Terminator: The Burning Earth." Five years later, Ross created the illustrations and cover art for "Marvels," a full feature comic book, co-written by Kurt Busiek. Ross's photorealistic gouache technique showcases superheroes and villains such as Spider-Man, the Human Torch, Captain America, and Galactus. His sophomore project, "Kingdom Come," is a comic in which an alternate DC Universe is filled with aging superhero forces including Superman, Wonder Woman and the Green Lantern, who come out of retirement to fight modern super humans.
Ross won the Comic Buyer's Guide Award for Favorite Painter seven times in a row, resulting in the retirement of the category.
To learn more, visit the artist's website: http://www.alexrossart.com
Norman Rockwell Museum
9 Route 183, Stockbridge, MA 01262