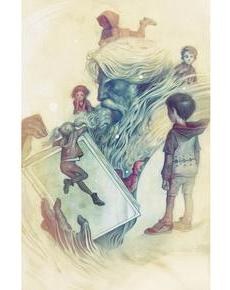 MARK BUCKINGHAM signs Fables Vol 17: INHERIT THE WIND, (Titan Books) at the Forbidden Planet Bristol Megastore on Saturday 27th October from 1 – 2pm.
The tights and capes have been stored away forever. Where do the Fables go from here? Bigby and Snow White's cubs try to move forward after learning a hard lesson about life and death. And the loveable hero Bufkin the Flying Monkey gets into more trouble when he finally reaches his homeland of Oz.
Mark Buckingham is most famous for his work on Marvelman, Hellblazer, and Fables, including a story in the original graphic novel 1001 Nights of Snowfall. His Marvel work includes inking Chris Bachalo's pencils on Generation X, Ghost Rider 2099, and penciling Paul Jenkins's run on Peter Parker: Spider-Man. For DC Comics, Buckingham has inked the two Death miniseries and was the original penciller on the Titans series.
Forbidden Planet Bristol Megastore
Units 4&5 Clifton Heights, Bristol, BS8 1EJ