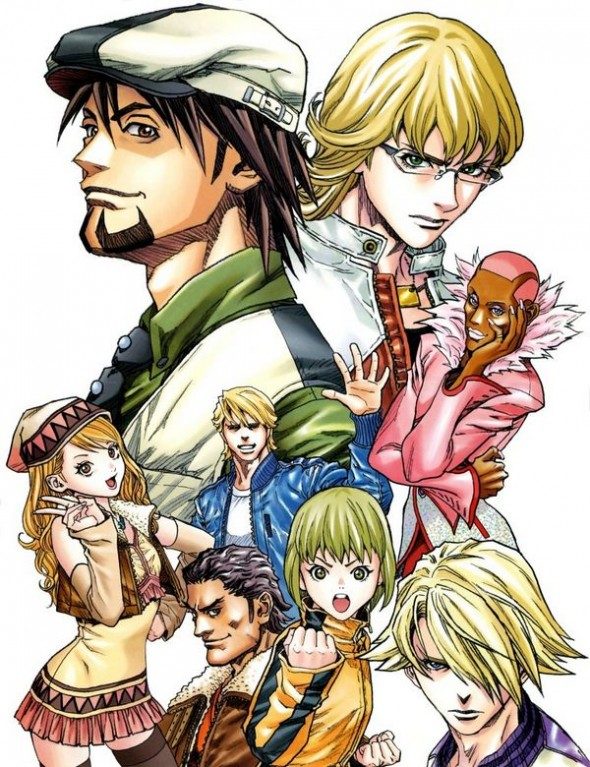 Press Release:
MASAKAZU KATSURA IS SPOTLIGHT GUEST AT NEW YORK COMIC CON
TIGER & BUNNY Character Designer To Attend Courtesy of SUNRISE, Inc.
Norwalk, CT, September 21, 2012: New York Comic Con (NYCC) is today proud to announce Masakazu Katsura will attend this year's NYCC as a Spotlight Guest. Mr. Katsura is currently the character designer of the hit anime series TIGER & BUNNY, as well as the creator of acclaimed manga series including Video Girl Ai and Wingman. New York Comic Con will take place October 11 – 14, 2012 at NYC's Javits Center. It is one of New York's largest annual events and last year attracted over 100,000 attendees. Mr. Katsura joins a broad range of already-announced guests including Yoshitaka Amano, Brian K. Vaughan, Mike Mignola, Joshua Gates and Anne Rice. Katsura's appearance at New York Comic Con is courtesy of SUNRISE, Inc., the animation studio behind TIGER & BUNNY as well as anime classics including Mobile Suit Gundam, Code Geass and Cowboy Bebop.
Artist Masakazu Katsura is in charge of character creation and hero designs for the anime series TIGER & BUNNY. Beyond his work as a character designer, Katsura is a well-recognized manga creator who won an honorable mention in the 19th Tezuka Awards for his debut manga Tsubasa in 1980. In 1983, he began serializingWingman in Weekly Shonen Jump. Wingman became a major hit and was also turned into an animated series. Afterwards, he created the hits Video Girl Ai, DNA², I's, SHADOW LADY, M and others in Weekly Shonen Jump.He is presently serializing his science fiction action manga ZETMAN in Weekly Young Jump.
TIGER & BUNNY, produced by SUNRISE, Inc. in Japan and released by VIZ Media in the US, is set in Stern Bild, a metropolitan city where superheroes called NEXT help to maintain peace. Sporting sponsor logos on their suits, these heroes work to solve cases and save people's lives in order to earn Hero Points, while also helping to improve the public image of their corporate sponsors. One such hero is Kotetsu T. Kaburagi, a veteran superhero named the "Wild Tiger" who relies on his years of experience and instincts to fight crime. Now, Kotetsu suddenly finds himself forced to team up with rookie hero Barnaby Brooks Jr., soon nicknamed "Bunny".
Mr. Katsura will appear at NYCC on a TIGER & BUNNY panel on Saturday at 6:30 PM with Kazuhiko Tamura, the producer of TIGER & BUNNY, from SUNRISE. Katsura will then also appear on VIZ Media's Shonen Jump Alphapanel at 7:45 PM on Saturday.
"I am honored to welcome Mr. Katsura, Mr. Tamura and SUNRISE to New York Comic Con," notes Lance Fensterman, Group Vice President for ReedPOP and Show Manager for NYCC. "SUNRISE has grown into our friend and partner, and we're humbled by all they will be presenting at NYCC this year. TIGER & BUNNY is one of the biggest anime hits in America, and we know all of its fans will be tremendously excited to hear more about the series from Mr. Katsura and Mr. Tamura themselves."
Tickets for New York Comic Con 2012 are currently available for purchase at NewYorkComicCon.com. Companies interested in exhibiting at New York Comic Con should contact Larry Settembrini atlarry@reedpop.com. Other information about the show, as well as news about ReedPOP, which organizes a range of pop culture events, is available at facebook.com/NewYorkComicCon and twitter.com/NY_Comic_Con. Officials note that more details about SUNRISE's appearance as well as additional scheduling information will be announced over the coming weeks and fans should keep their eyes on NYCC's website for additional announcements.
ABOUT SUNRISE, INC: Sunrise, Inc., a Namco Bandai Group Company, is an animation production studio who produces smash hit anime series like Mobile Suit Gundam, Cowboy Bebop, Escaflowne, Code Geass andTIGER & BUNNY. The company is located in Suginami, Tokyo, Japan and was established in 1972. The President is Mr. Kenji Uchida.
ABOUT VIZ MEDIA, LLC: Headquartered in San Francisco, California, VIZ Media distributes, markets and licenses the best anime and manga titles direct from Japan. Owned by three of Japan's largest manga and animation companies, Shueisha Inc., Shogakukan Inc. and Shogakukan-Shueisha Productions, Co., Ltd., VIZ Media has the most extensive library of anime and manga for English speaking audiences in North America, the United Kingdom, Ireland and South Africa. With its popular digital manga anthology Weekly Shonen Jump Alphaand blockbuster properties like Naruto, Bleach and InuYasha, VIZ Media offers cutting-edge action, romance and family friendly properties for anime, manga, science fiction and fantasy fans of all ages. VIZ Media properties are available as graphic novels, DVDs, animated television series, feature films, downloadable and streaming video and a variety of consumer products.
ABOUT REEDPOP: ReedPOP is a boutique group within Reed Exhibitions which is exclusively devoted to organizing events, launching and acquiring new shows, and partnering with premium brands in the pop culture arena. ReedPOP is dedicated to producing celebrations of popular culture throughout the world that transcend ordinary events by providing unique access and dynamic personal experiences for consumers and fans. The ReedPOP portfolio includes: New York Comic Con (NYCC), Chicago Comic & Entertainment Expo (C2E2), Penny Arcade Expo (PAX) East & Prime, Star Wars Celebration, Fantasy Football Fest and the UFC Fan Expo. The staff at ReedPOP is a fan based group of professionals producing shows for other fans, thus making them uniquely qualified to service those with whom they share a common passion. ReedPOP is focused on bringing its expertise and knowledge to world communities in North America, South America, Asia and Europe.