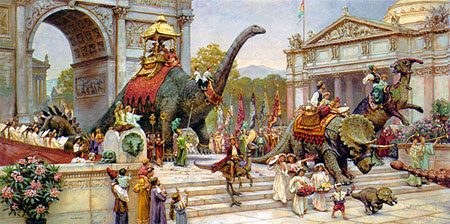 James Gurney, author and illustrator of Dinotopia, appears at the Lyman Allyn Art Museum for a presentation and book signing on Saturday October 13th, 2012 at 2:00pm.
Press Release:
Lyman Allyn Art Museum announces a new exhibition DINOTOPIA: Art, Science, and Imagination opening September 22, 2012 and on view through February 2, 2013.
Dinosaur fans get ready! DINOTOPIA: Art, Science, and Imagination showcases the original artwork of James Gurney. Gurney is the author and illustrator of Dinotopia, an illustrated book series that tells the story of an island where humans and sentient dinosaurs live together in harmony. Dinotopia appeals to both adults and children and was the inspiration for the 2002 television miniseries.
On view from September 22, 2012 through February 2, 2013, the exhibition brings together paintings from Gurney's well-loved books A Land Apart From Time, The World Beneath, Journey to Chandara, and First Flight, along with sketches and maquettes from Gurney's studio. Dinosaur specimens from the Yale Peabody Museum of Natural History, including a Deinonychus skull and a Tyrannosaurus tooth, will complement the paintings and illuminate the science behind Gurney's art. Children, families, steampunk enthusiasts, and dinosaur fans of all ages will agree that this exhibition should not be missed!
The Lyman Allyn Art Museum's mission is to respond and appeal to the regional community. In that spirit, the museum has planned an exciting schedule of programs to accompany this exhibition.
Image ©2012 James Gurney.
Lyman Allyn Art Museum
625 Williams Street, New London, CT 06320
Exit 83 off of I-95
Open Tuesday through Saturday, 10am-5pm
For more information, please call 860 443-2545