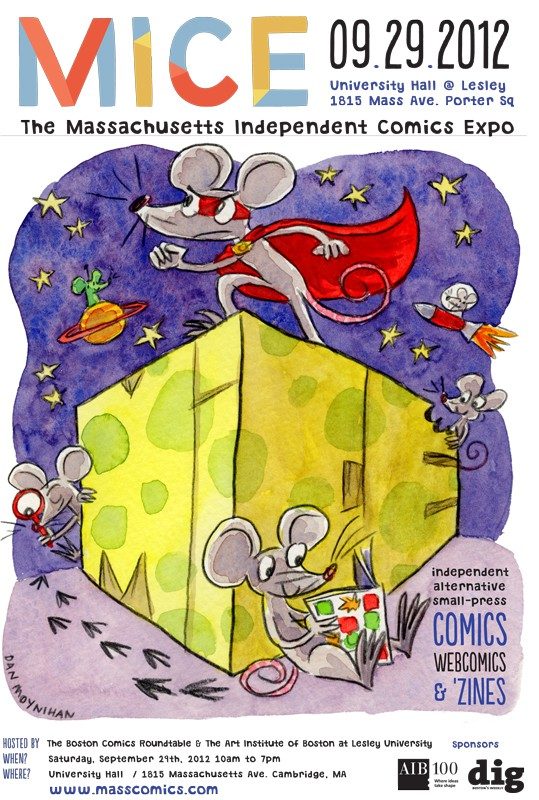 Press Release:
Boston Comics Roundtable (BCR) and the Art Institute of Boston (AIB) are proud to announce the third annual Massachusetts Independent Comics Expo (MICE). MICE is Boston's only show dedicated to alternative comics, 'zines, and web comics. The 2012 expo features talented regional cartoonists, including Ignatz Award-winning Box Brown (Everything Dies), veteran comics parodist Robert Sikoryak (Masterpiece Comics), and 100 more indie artists on the rise.
With free admission, MICE 2012 is a great opportunity for anyone interested in the local independent comics scene to get a first-hand look at thousands of unusual, entertaining and interesting comics, as well as meet the creators. Over 100 comics artists and small publishers will be exhibiting.  The show will include demonstrations with professional artists and panel discussions on topics central to comics and an exhibit of original art.
"There's so much exciting work being done in independent comics these days, but it's a rare opportunity to be able to see such a great sampling of it one place," said Dan Mazur, a MICE organizer. "The great thing about a show like MICE is that so many local creators get to gather together and connect with their fans, and with potential readers."
The popularity of last year's show was reflected in the fact that exhibitor tables for MICE 2012 sold out within three hours of going on sale online.
MICE will present a day-long slate of panel discussions and creative workshops, on topics including Comics and Medicine, Comics and the Art World, Comics and Religion, Injury-avoiding Exercises for Artists, and others.
Another new wrinkle for MICE this year is the addition of the NECAC (New England Comic Arts in the Classroom) Symposium, as an associated event.  NECAC is an organization that promotes the use of comics as an educational tool in K-16 classrooms. The symposium will be a three-hour event, offering workshops and discussions specifically aimed toward educators. It will be held on the same morning as MICE, and in the same building, creating a unique synergy between a creator-focused and educator-focused approaches to the art of comics.
MICE occurs on September 29 at Lesley University in Cambridge, MA. For more information, please visit www.masscomics.com.
ABOUT BOSTON COMICS ROUNDTABLE
Boston Comics Roundtable draws local cartoonists and writers to collaborate, workshop and socialize since 2006. BCR publishes Inbound, an anthology of Boston-area independent comics, Outbound, a science-fiction comics anthology, and the horror anthology, Hellbound. Visit bostoncomicsroundtable.com for more information.
ABOUT THE ART INSTITUTE BOSTON / LESLEY UNIVERSITY
The Art Institute of Boston at Lesley University is a college of visual arts offering the Bachelor of Fine Arts degree, the two-year Advanced Professional Certificate, and the low residency Master of Fine Arts degree. In addition, continuing and professional education, intensive workshops, and pre-college courses are all available.
ABOUT R. SIKORYAK
MICE 2012 Guest of Honor R. Sikoryak's cartoons and illustrations have appeared in The New Yorker, Nickelodeon Magazine, Drawn & Quarterly, Raw, Fortune, Esquire, GQ, among many other publications, and on The Daily Show with Jon Stewart. He is the author of the graphic novel Masterpiece Comics (Drawn & Quarterly), and the co-author, with Michael Smith, of The Seduction of Mike (Fantagraphics), a comic book funded by the NEA. He was awarded an Artist's Fellowship from The New York Foundation for the Arts for his comics adaptations of classic literature. He is in the Speakers Program of the New York Council of the Humanities. In his spare time, he creates performances, slide shows, and animation for downtown theater and independent films.