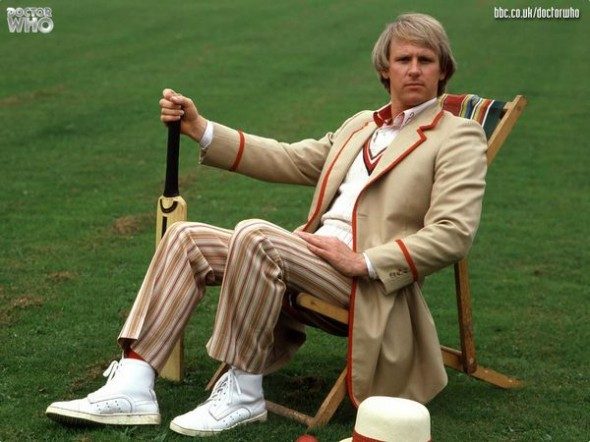 Press Release:
NOTED BRITISH ACTOR PETER DAVISON IS  SPOTLIGHT GUEST AT NEW YORK COMIC CON
Celebrated Roles Include "Doctor Who" Among Other Parts
Norwalk, CT, August 24, 2012:  Peter Davison, who played the fifth incarnation of The Doctor in the celebrated British television series Doctor Who, will be a Spotlight Guest at this year's New York Comic Con (NYCC). The noted actor, who is also well known for his role as Tristan Farnon in James Herriott's All Creatures Great and Small, will be signing autographs and appearing on stage. Doctor Who, which premiered on British television in 1963, has gone on to become a television institution in the UK, a cult phenomenon in the USA and the longest-running science fiction television program in the world according to the Guinness Book of World Records. The series will mark its 50th anniversary in 2013. Peter Davison played the title role from 1981 – 1984.
New York Comic Con, which will take place October 11 – 14, 2012 at NYC's Javits Center, is one of New York's largest annual events, last year attracting over 100,000 attendees. The pop culture convention draws a wide cross section of fans eager to meet and greet the creators, actors, writers, musicians and artists.  The show includes top talent from the worlds of comics, film, television, music, books and gaming. Peter Davison, an acclaimed actor who has starred in many other TV series in addition to Doctor Who , will be signing in the Autograph Area Friday, October 12 – Sunday, October 14. Further details about his appearance will be revealed in the near future.
"I am very grateful to Peter Davison for attending New York Comic Con," notes Lance Fensterman, Group Vice President for ReedPOP and Show Manager for NYCC. "Doctor Who symbolizes the scope and staying power of pop culture influences, which is what New York Comic Con is all about. 49-years-young, Doctor Who has influenced generations of fans, families and professionals, and we're proud to welcome one of the program's classic Doctors to America. Peter Davison's participation at NYCC underscores the range of talent that we present to our audience, and I am thankful that he is providing so much of his time for fans to meet him in person."  
Tickets are currently available for purchase at NewYorkComicCon.com. Companies interested in exhibiting should contact Larry Settembrini at Larry@ReedPOP.com . Other information about NYCC, as well as news about ReedPOP, which organizes a range of pop culture events, is available at facebook.com/NewYorkComicCon andtwitter.com/NY_Comic_Con. Previously announced guests at New York Comic Con include: Anne Rice, Sean Astin, Josh Gates, Geoff Johns, Jim Lee, Joe Quesada, Axel Alonso and Brian K. Vaughan, among others. Officials note that many more guests will be announced over the next few weeks and fans should keep their eyes on NYCC's website for additional announcements.
###
ABOUT PETER DAVISON:  Peter was Doctor Who's fifth Doctor from 1981 until 1984. He first became known to US audiences playing Tristan in All Creatures Great and Small. He has also been seen starring in BBC'sCampion, The Last Detective, At Home with the Braithwaites, The Hitchikers Guide to the Galaxy and A Very Peculiar Practice, all of which were shown in the USA. He returned to Doctor Who as the fifth Doctor opposite David Tennant's tenth Doctor in Time Crash, A Special for Children in Need.  He is currently appearing in Law and Order UK . His daughter, Georgia Moffett, also starred in Doctor Who opposite David Tennant. They have since married and have two children. Peter is married to Elizabeth Morton who appeared in the film Lifeforce. They have two children and a badly behaved dog.
ABOUT REEDPOP: ReedPOP is a boutique group within Reed Exhibitions which is exclusively devoted to organizing events, launching and acquiring new shows, and partnering with premium brands in the pop culture arena. ReedPOP is dedicated to producing celebrations of popular culture throughout the world that transcend ordinary events by providing unique access and dynamic personal experiences for consumers and fans. The ReedPOP portfolio includes: New York Comic Con (NYCC), Chicago Comic & Entertainment Expo (C2E2), Penny Arcade Expo (PAX) Prime & East, Star Wars Celebration, Fantasy Football Fest and the UFC Fan Expo. The staff at ReedPOP is a fan based group of professionals producing shows for other fans, thus making them uniquely qualified to service those with whom they share a common passion. ReedPOP is focused on bringing its expertise and knowledge to world communities in North America, South America, Asia and Europe.