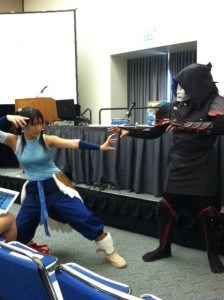 One of the big draws of this year's Comic Con International was The Legend of Korra, Nickelodeon's highly anticipated sequel to the popular cartoon Avatar: The Last Airbender. With the first season recently concluded, Korra fans swarmed Comic-Con for panels and signings to grill the creators, artists, and voice over actors for hints to what may befall the new Avatar and her friends in the upcoming season. Series creators Michael Dante DiMartino and Bryan Konietzko hosted a panel on Friday to reveal some details and animatics from the new season, titled "Spirits." They were joined by co-executive producer Joaquim Dos Santos, voice director Andrea Romano, and voice actors David Faustino (Mako), P.J. Byrne (Bolin), Seychelle Gabriel (Asami), and Korra herself, Janet Varney. Many fans (including your intrepid reporter) were unable to get into Ballroom 20 for the panel (possibly because of all the Browncoats squatting. for the Firefly panel immediately following) but never fret because naturally the panel has been posted to the internet.
A signing followed at the Nickelodeon booth, upon which convention staff required tickets to be handed out to cut down on lage, aisle-blocking crowds. Unfortunately this news came down first thing that morning meaning everyone at the panel missed out and many people who expected a first-come, first-serve signing. The giveaways posters featured either the cast of Legend of Korra or adult renditions of the original cast of Avatar: The Last Airbender.
The following day saw the Avatar Legacy Fan Panel which played to an overflowing audience and hosted special guests Bobby Rubio (Avatar: The Last Airbender, Pixar Studios, Alcatraz High), freelance concept artist DJ Welch (Dark Kenjie), Kevin Coppa (Puppet Benders), Gurihiru Studios artists Chifuyu Sasaki and Naoko Kawano, and voice actors Dante Basco (Prince Zuko, General Iroh II) and Mae Whitman (Katara). Festivities included a martial arts demonstration by series consultant Sifu Kisu, a costume contest, and a live reading of the Dark Horse comic The Promise featuring Basco and Whitman reprising their roles as Zuko and Katara respectively and a lucky fan very aptly steping into the role of Avatar Aang. Big thanks to organizer Avatar_Mom for putting the whole thing together.
After that was a signing at the Dark Horse Booth with DiMartino, Konietzko, Dos Santos, Gurihiru, and series director Ki Hyun Ryu. This one was ticketed as well but that fact had been well advertised beforehand. Even so the long line was packed and shuffled around by Dark Horse staffers. By all indications the Korra fanship is growing and Nickelodeon, Dark Horse, and Comic-Con itself would be well-advised to take that into consideration when assigning them panel space and accomodating signing lines.