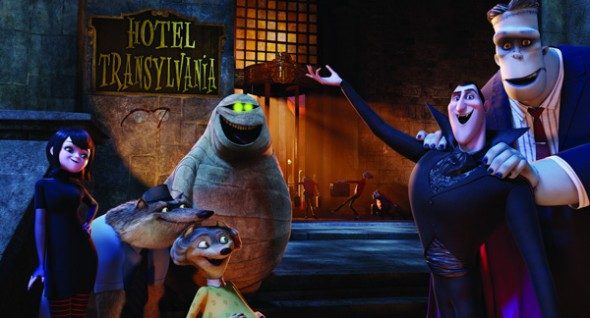 Press Release:
Check Into Sony Pictures Animation's Hotel Transylvania At Comic-Con International: San Diego 2012
Director Genndy Tartakovsky to Unveil Never-Before-Seen Footage Thursday, July 12 Panel at 3:00PM
CULVER CITY, Calif., July 9, 2012 — Acclaimed animation director Genndy Tartakovsky (Dexter's Laboratory, Samurai Jack, Star Wars: Clone Wars) and producer Michelle Murdocca (Open Season) will unveil never-before-seen footage from the highly-anticipated animated comedy, Hotel Transylvania, during a panel at Comic-Con in San Diego, CA on Thursday, July 12 at 3:00 p.m. in the Indigo Ballroom of the Hilton San Diego Bayfront Hotel.
Hotel Transylvania, which arrives in theatres on September 28, 2012, marks Tartakovsky's theatrical directorial debut. Tartakovsky and Murdocca will discuss the animated film, take questions from the audience, and screen never-before-seen footage from the film.
Following the panel, Tartakovsky will be signing a limited edition Hotel Transylvania poster created exclusively for Comic-Con fans at the Sony booth #4229 at 4:00PM.
Welcome to Hotel Transylvania, Dracula's lavish five-stake resort, where monsters and their families can live it up, free to be the monsters they are without humans to bother them. On one special weekend, Dracula has invited some of his best friends – Frankenstein and his wife, the Mummy, the Invisible Man, the Werewolf family, and more – to celebrate his beloved daughter Mavis's 118th birthday. For Drac, catering to all of these legendary monsters is no problem – but everything could change for the overprotective dad when one ordinary guy stumbles on the hotel and takes a shine to Mavis.
A 20-year veteran of animation, Tartakovsky has received an impressive 12 Primetime Emmy Award nominations – winning three times — for work on the series Star Wars: Clone Wars and Samurai Jack, both for Cartoon Network. A recipient of the prestigious Winsor McCay Award, Tartakovsky's creative leadership helped shape the direction and the rise to national prominence of the Cartoon Network, where he developed four hit animated series between 1994 and 2010: Dexter's Laboratory; Samurai Jack; Star Wars: Clone Wars; and Sym-Biotic Titan. Tartakovsky served as a producer and director on Cartoon Network's Emmy Award-winning series The Powerpuff Girls and as an animation director for The Powerpuff Girls: The Movie. He is also co-creator of the Network's Dial M For Monkey and Justice Friends.
Sony Pictures Animation celebrates its 10th anniversary in 2012 with a robust slate of upcoming films. Following box office hits and award-winning favorites like Cloudy With A Chance Of Meatballs, The Smurfs and Open Season, Tartakovsky's Hotel Transylvania is next up in September, after which Sony Pictures Animation will welcome the July 2013 release of The Smurfs 2, the follow-up to the 2011 global sensation. Cloudy 2: Revenge Of The Leftovers, a sequel to Sony Pictures Animation's popular comedy, will reach theatres worldwide in February 2014. Also now in development are Popeye; The Familiars, directed by Doug Sweetland (who previously helmed the Academy Award ® nominated Pixar short Presto) and co-directed by Fergal Reilly; Kazorn And The Unicorn, with Kelly Asbury (Shrek 2, Gnomeo & Juliet) at the helm and co-directed by Troy Quane; and Pooch Cafe, based on Paul Gilligan's popular, long-running comic strip.
Columbia Pictures presents a Sony Pictures Animation film, Hotel Transylvania. The film features the voices of Adam Sandler, Andy Samberg, Kevin James, Selena Gomez, Steve Buscemi, CeeLo Green, David Spade, Molly Shannon, and Fran Drescher. Directed by Genndy Tartakovsky. Produced by Michelle Murdocca. Screenplay by Peter Baynham and Robert Smigel. Story by Todd Durham and Daniel Hageman & Kevin Hageman. Executive producers are Adam Sandler and Robert Smigel. Music by Mark Mothersbaugh. Music Supervision by Liza Richardson. Imagery and Animation by Sony Pictures Imageworks Inc.
ABOUT SONY PICTURES ANIMATION
Sony Pictures Animation produces a variety of animated entertainment for audiences around the world. The studio is following its worldwide comedy hits—the 2011 hybrid live action/animated family blockbuster, The Smurfs (3D) and the 2009 mouth-watering Cloudy with a Chance of Meatballs (3D)—with the family comedy Hotel Transylvania (3D) in September 2012 and the Smurfs 2 (3D) in July 2013. Sony Pictures Animation, in conjunction with Aardman Animations, has produced two critically acclaimed feature films: the CG-animated family comedy Arthur Christmas (3D); and the stop-frame animated high-seas adventure, The Pirates! Band of Misfits (3D). In 2007, Surf's Up received an Academy Award® nomination for Best Animated Feature Film. The division, whose first feature film Open Season led to a very successful movie franchise, is turning 10 this year. Sony Pictures Animation is an operating unit of Sony Pictures Digital.