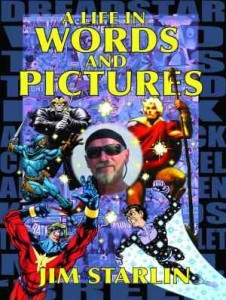 Press Release:
The Baltimore Comic-Con is proud to announce the addition of comic legend Jim Starlin to the growing line-up of creators attending this year's show. The 13th annual show will be taking place September 8-9, 2012 at the Baltimore Convention Center in the heart of downtown Baltimore.
Starlin began his illustrious career as a writer and artist in 1972 and made a name for himself in the industry with his universe-spanning cosmic tales and space operas at Marvel Comics. In addition to revamping Marvel's Captain Marvel and Adam Warlock, he is also the creator of Marvel's Mad Titan, Thanos.
Aside from creating Thanos, Starlin also co-created Marvel's Shang-Chi, Master of Kung Fu along with Steve Englehart. His extensive resume includes on the DC Comics titles Detective Comics, Batman, and Legion of Super-Heroes, working on such notable story-arc as "Batman: A Death in the Family" and "Ten Nights of the Beast."
"With the amazing success of Marvel's The Avengers this summer, we couldn't be more thrilled to have the creator of one of the Avenger's most fearsome adversaries attending the show," said Marc Nathan, show promoter of the Baltimore Comic-Con. "With Thanos set to be the next major villain in the second phase of the Marvel Cinematic Universe, Jim Starlin is a guest that everyone is going to want to see at the show!"
Most recently, Stalin wrote and drew the seven-issue miniseries, Breed: Book of Revelation for Image Comics and The Art of Jim Starlin: A Life in Words and Images published by IDW, both in 2011.
This year's confirmed guests for the show including: Guest of Honor, Stan "The Man" Lee (Saturday only!); Ken Bald (Golden Age Timely/Marvel artist); Marty Baumann (Pixar artist); Brian Bolland (Dial H, Cover Story: The DC Comics Art of Brian Bolland); Greg Capullo (Batman, Spawn); Tommy Castillo (Grimm Fairy Tales); Cliff Chiang (Wonder Woman); Frank Cho (Avengers vs. X-Men, Liberty Meadows); Steve Conley (Bloop webcomic www.bloopstree.com); Amanda Conner (Before Watchmen:  Silk Spectre); Lar deSouza (Looking For Group, Least I Could Do); Dan Didio (O.M.A.C.); Garth Ennis (The Shadow, Hellblazer, Preacher, The Boys); Rich Faber (Roboy Red); David Finch (Batman:  The Dark Knight); John Gallagher (Buzzboy); Jose Luis Garcia-Lopez (Batman, Superman, Wonder Woman); Keith Giffen (Superman, O.M.A.C., Green Arrow); Gene Ha (Justice League); Larry Hama (G.I. Joe, Wolverine, The 'Nam); Cully Hamner (Action Comics); Dean Haspiel (Billy Dogma, ACT-I-VATE, Trip City); Jamal Igle (KISS, Supergirl, The Ray); J.G. Jones (Wanted, Doc Savage); Barry Kitson (Captain America, Iron Man, Fantastic Four); Joe Kubert (Before Watchmen: Nightowl); Scott Kurtz (PvPonline.com); David Mack (Kabuki); Ron Marz (Artifacts, Voodoo); Bob McLeod (DC Comics Presents: Wonder Woman); Mark Morales (Avengers vs. X-Men); Jimmy Palmiotti (All-Star Western); David Petersen (Mouse Guard); Brian Pulido (Lady Death); Frank Quitely (All Star Superman, Batman & Robin); John Romita, Jr. (Avengers Vs. X-Men); Don Rosa (Uncle Scrooge); Stuart Sayger (Infestation 2: 30 Days of Night One-Shot); Walter Simonson (Thor, Legion of Super-Heroes, Avengers); Ryan Sohmer (Looking For Group, Least I Could Do); Scott Snyder (Batman, Severed, Swamp Thing); Brian Stelfreeze (ICE); Karl Story (Buffy the Vampire Slayer Season 9); Peter Tomasi (Batman and Robin); Billy Tucci (A Child Is Born, Shi); Matt Wagner (Tower Chronicles, Mage, Grendel); Mark Waid (Daredevil, Incorruptible, Irredeemable); Bernie Wrightson (Frankenstein).
In the coming weeks, look for more announcements from the Baltimore Comic-Con. We are looking forward to highlighting our guests, the Harvey Awards, industry exclusives, and programming. The latest developments can always be found on our website, Twitter, and Facebook pages.
This year's Baltimore Comic-Con will be held September 8-9, 2012. Convention hours are Saturday 10 AM to 6 PM and Sunday 10 AM to 5 PM. The ceremony and banquet for the Harvey Awards will be held Saturday night, September 8th.