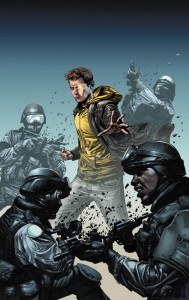 Joshua Dysart, Dinesh Shamdasani, and friends sign at both Collector's Paradise locations on Wednesday June 6th!
Press Release:
Collector's Paradise would love to invite you to the LA Release Signings for HARBINGER #1, a hot new release from Valiant Entertainment, with writer Joshua Dysart and special guests, including (confirmed) Valiant Founder Dinesh Shamdasani and more!
Valiant, once the third biggest publisher in comics (after Marvel & DC) is back, with a huge hit, X-O Manowar, which sold more copies this year than any independent comic book. Now Valiant is following XO with a fantastic first issue of Harbinger, a fresh new take on discovery of powers and the powers that compete for the newly "discovered" talent.
We will hold two signing events, both on Wednesday June 6th.   First, in our Valley store, from 12pm to 3pm, Joshua Dysart will sign copies of Harbinger #1. Each copy will come with a Certificate of Authenticity, signifying that it was signed during our Release Signings.
Then, from 5pm to 8pm, Joshua will sign at our Pasadena location. At both signings, we plan to have special guests, to be announced closer to the time of the signing.
RSVP For this event by clicking HERE.
Collector's Paradise
319 S. Arroyo Parkway #4, Pasadena, CA 91105
7131 Winnetka Ave, Canoga Park, CA 91306