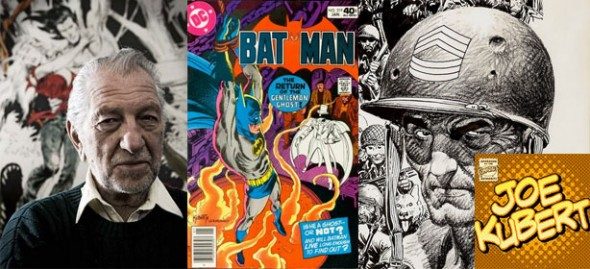 Press Release:
THE GREAT ALLENTOWN COMIC CON! ANNOUNCES JOE KUBERT AND CHARITY EVENT FOR AUGUST 4-5th 2012 SUMMER SHOW!
Allentown PA, May 24th — Legendary artist Joe Kubert to attend, donate original artwork for Children Charity raffle at August 4-5th Great Allentown Comic Con.
Comic legend Joe Kubert has agreed to appear at the 3rd annual Great Allentown Comic Con! Summer Splash show. This will be Mr. Kubert's first appearance at The Great Allentown Comic Con! and event organizers are very pleased that the legendary creator's participation at the show is the first headline guest appearance and charity donation announcement for this year's summer show. Not only that, the confirmation comes just in time for the Memorial Day holiday … a great way to begin excitement for the stream of additional guest appearance announcements that will be forthcoming. The GACC Summer Show will take place August 4 – 5, 2012 in the showroom at The Merchants Square Mall in Allentown, Pennsylvania.
"This is an awesome way to kick off our guest and event announcements for the Summer GACC show," notes Christopher Wertz, Founder and Promoter of the GACC. "Joe Kubert is a living legend, and has contributed his talents not only to creating comic stories and characters but to sharing his talents teaching future generations of artists how to apply their skills. We at the GACC have worked hard to create an environment that both entertains and encourages younger fans to appreciate graphic arts much as Joe has done his entire career. We are further happy to be able to announce a chance for his fans to win an original sketch, while also supporting a great cause."
Mr. Kubert will attend panels as well as conduct signings at the show and so there will be plenty of opportunity for his fans to see him. Mr. Kubert will be assisting the GACC in raising funds for the Tomorrows Children's Fund charity, by donating an original sketch he will create while at the show! In addition, The Kubert School, which he founded in 1976, will also have a booth at the show and expect to see current and former students showing their support. For further information about the GACC and for purchasing tickets please visit www.AllentownComicCon.com.
About The Great Allentown Comic Con! – The Only Pop-Culture Comic Convention in the Lehigh Valley. Founded in 2010, by Riverside Comics; The Great Allentown Comic Con (GACC) is already one of the fastest growing Fan-focused events in the comics industry. Currently located in the 10,000 sq ft Showroom of the Merchants Square Mall in Allentown PA, the GACC is dedicated to producing celebrations of comics and popular culture by providing unique access to talented artists and a family-friendly experience for fans. The show motto "Get UR Geek On!" represents in part the recognition of the diverse and unique nature of our fans, and to our commitment in providing events where they can come and express themselves freely.
About Joe Kubert:
Born in 1926, Joe Kubert began his career at the age of eleven as an apprentice for Harry "A" Chesler's comic-book production house. He has worked in the field ever since, and in his more than seventy years with the medium he has produced countless stories for countless characters, including DC Comics' Hawkman, Tarzan, Enemy Ace, Batman and the Flash as well as his own characters: the heroic caveman, Tor, and Abraham Stone. He also edited, wrote and illustrated the DC title Sgt Rock for thirty years.
In the 1950s, Kubert was a principal in the creation of the first 3-D comic book. During the 1960s, he illustrated Tales of the Green Beret for the Chicago-Tribune New York News Syndicate.
In 1976, Kubert and his wife Muriel founded the first and only accredited school devoted solely to the art of cartoon graphics. The Kubert School, Inc. in Dover, New Jersey, has since produced many of today's leading cartoonists. Pursuing this educational path further, in 1998 Kubert established a series of correspondence courses under the banner of Joe Kubert's World of Cartooning. At the same time, he established his website: www.KubertSchool.edu.
Kubert has remained busy throughout the years. The last fifteen years, he has created SGT ROCK: BETWEEN HEAVEN AND HELL (written by Brian Azzarello) as well as FAX FROM SARAJEVO, YOSSEL, JEW GANGSTER, SGT ROCK: THE PROPHECY, and TOR: A PREHISTORIC ODYSSEY, all written and drawn by Kubert. In addition to these works, he produces PS Magazine for the U.S. Army (as he has since 2000) and has most recently written and illustrated a new graphic novel about a special forces team in Vietnam for DC Comics. DONG XOAI, VIETNAM 1965 is scheduled to be published in May 2010.
Joe Kubert lives in New Jersey. Two of his five children, Adam and Andy, have achieved great notoriety as comic-book artists.
About The Tomorrows Children's Fund: Founded by a group of committed parents to help their children and others like them with cancer and serious blood disorders. With the help of donations and supporters, today, TCF provides a warm, healthy and loving environment for children in treatment; a full scope of services to relieve families' emotional and financial stress; the very best possible medical care; and funding for research on these diseases. All of which confirms our belief that through hope, hard work and heartfelt generosity, extraordinary things are possible. For more information: http://www.atcfkid.com