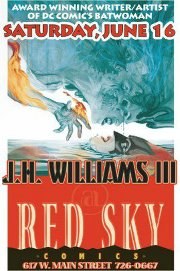 JH Williams III signs at Red Sky Comics on Saturday, June 16, 2012 from 3:00 – 6:00pm.
Press Release:
Come celebrate the release of "Batwoman Vol. 1: Hydrology" with award winning local author and artist, J.H. Williams III (Chase, Promethea, Desolation Jones, Detective Comics). Williams will be available for signing, previewing material, and selling original artwork from 3 pm. till 6 pm. Keep watching here for further details of this event!
To celebrate we are having a sale on all J.H. Williams III titles: Hardcover copies of "Batwoman Vol. 1: Hydrology" on sale for $19.99. This deluxe volume includes Batwoman issues #0-#5 and chimes in at a 160 beautifully illustrated and written pages.
20% off all J.H. Williams III trade paperbacks. Finally your choice of three J.H. Williams III comics for $10.
Attendees showing up in full costumes will receive a special item!
The store will be open from noon till 6 pm that day, so come in early and get your copies of J.H. Williams III works. Williams will be signing from 3 pm till 6 pm (limit 5 items per person per place in line).
Red Sky Comics
617 W Main Street, Merced, CA 95340