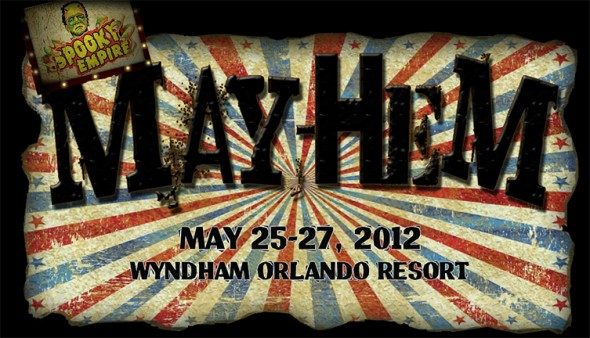 FOR IMMEDIATE RELEASE:
Spooky Empire's May-Hem convention is less than 4 weeks away….are you ready for, well…the Mayhem?!!
Orlando, FL – May 4, 2012 – The show is looking to be an epic event, their last one at the Wyndham, and Spooky Empire wants everyone to join them in bidding farewell to their favorite venue as only they know how.
There is an amazing line up of celebrity guests in store at May-Hem this year, most of which have never appeared at a Spooky Empire event! It's a never-ending list of heavy hitters, sure to please fans of all kinds. Guests will be available for meet and greets and autograph signings all weekend!
Some of the guests appearing are Linda Hamilton, best known for her role as "Sarah Connor" in The Terminator, as well as the TV series "Beauty and The Beast" and more recently "Chuck". Vivica A. Fox of "Kill Bill Vol. 1", "Independence Day" and "Batman & Robin" and Verne Troyer of the "Austin Powers" films and "The Love Guru". Cathy Moriarty of the classic "Raging Bull" as well as "Casper" and "Analyze That". Plus a very last minute addition, James Marsters most well known as Spike from "Buffy the Vampire Slayer".
For all of you KISS fans out there, here's your chance to meet the one and only Ace Frehley, original guitarist of the legendary band!
There will be an "Addams Family" reunion featuring John Astin "Gomez Addams", Lisa Loring "Wednesday Addams" and Felix Silla and "Cousin Itt".
Roddy Piper will be making a return appearance to Spooky Empire, not only for autographs, but to perform his live "one man show" This performance will require a separate ticket in addition to your admission. Tickets for Roddy's show are $10 and are available in advance online.
From the hit new TV series "The Walking Dead", films Mallrats and Henry:Portrait of a Serial Killer, Michael Rooker will be appearing. Also from "The Walking Dead" is Madison Lintz who played "Sophia" in the hit show. Stars of the TV series Charmed, Holly Marie Combs, Brian Krause, and Michael Bailey Smith. Holly Marie Combs currently stars on the hit new show "Pretty Little Liars", Brian Krause is also known for his role in Sleepwalkers., and Michael Bailey Smith has appeared in Buffy and The Hills Have Eyes 1 & 2. Also making a rare convention appearance is Joey Lauren Adams best known for her roles in films Chasing Amy, Big Daddy, Dazed & Confused and many more.
To round off the guest list is Kristanna Loken of Terminator 3, Monica Keena of Freddy vs Jason, and Oliver Robins from Poltergeist, plus legendary rock goddess Lita Ford, Marc Price from the film Trick or Treat, and Mackenzie Lintz of the hit new movie based on the bestseller The Hunger Games.
May-Hem is not just about the guests, there are some memorable events lined up as well. For the first time at May-Hem, Spooky Empire will be hosting their Zombie Walk in memory of the late Bill Hinzman!
The Mucklebones Monster Museum will be set up throughout the weekend inside the hotel. This is an exclusive Spooky Empire event! Spooky Empire's Tattoo Festival will also be in place featuring over 25 of the country's best artists. Check out the website to make your appointments now.
Of course there is the huge vendor room loaded with merchandise, collectibles and artists, tons of panels and Q&As, and no one can forget the notorious pool parties with live bands!
If you haven't already booked your room for May-Hem, do it soon! Rooms are just $85 per night, and are going fast! Reach Wyndham reservations at 1-800-421-8001, and mention "Spooky Empire" to get the special rate. Tickets are still available, one day passes are $30- $35, and $50 gets you in all three days! VIP packages are available but going fast! Both are available on the website.
Contact:Pete Mongelli
Info@spookyempire.com
www.spookyempire.com
954-258-7852