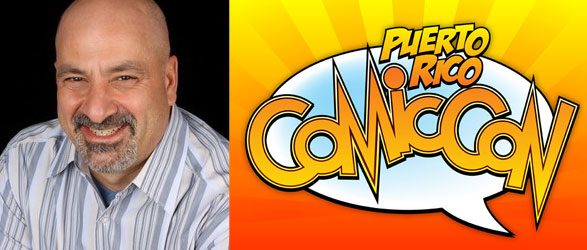 Press Release:
Dan DiDio to delight fans at the largest pop culture/entertainment convention in the Caribbean region
San Juan, Puerto Rico – Dan DiDio, the famed comic book writer, editor and publisher, and current Co-Publisher of DC Comics along with Jim Lee, confirmed that he will be among the special guest lineup at the Puerto Rico Comic Con (PRCC), to be held on May 26 and 27 at the Puerto Rico Convention Center. The event is the Caribbean region's largest and most important pop culture event.
DiDio, an industry veteran and pioneer best known as the man behind the reboot of all current DC comics and as the co-writer of the new OMAC series, will share his knowledge, experiences, stories, anecdotes, insights, and work with conventions goers.
"We are deeply honored that Dan DiDio chose to be a part of the Puerto Rico Comic Con," said Ricardo Carrión, executive producer of the event. "His work in the entertainment world is significant and his voice in comic books and television has set the tone in the industry. Conventioneers will surely benefit from his insights. Also, DiDio's participation in PRCC reaffirms the event's importance in the convention circuit. We invite fans from all over to come down to sunny Puerto Rico and enjoy this unique and special treat."
Dan will join the rest of the PRCC guest lineup, which includes industry veteran and pioneer Joe "Mad" Madureira, comic book artist Greg Capullo; Jason David Frank, MMA fighter and former Power Ranger; and voice actor Liam O'Brien, among many others.
Founded in 2002, the Puerto Rico Comic Con has become the leading pop culture event in the Caribbean, a hub for all things entertainment in the local and international realms, including cinema, television, comics, animation, videogames, card games, collectibles, and memorabilia. More than 10,000 fans enjoy the offerings of over 50 local and international vendors and exhibitors, as well as guest panels and conferences.
For more information regarding ticket sales, sponsorship or exhibition opportunities: