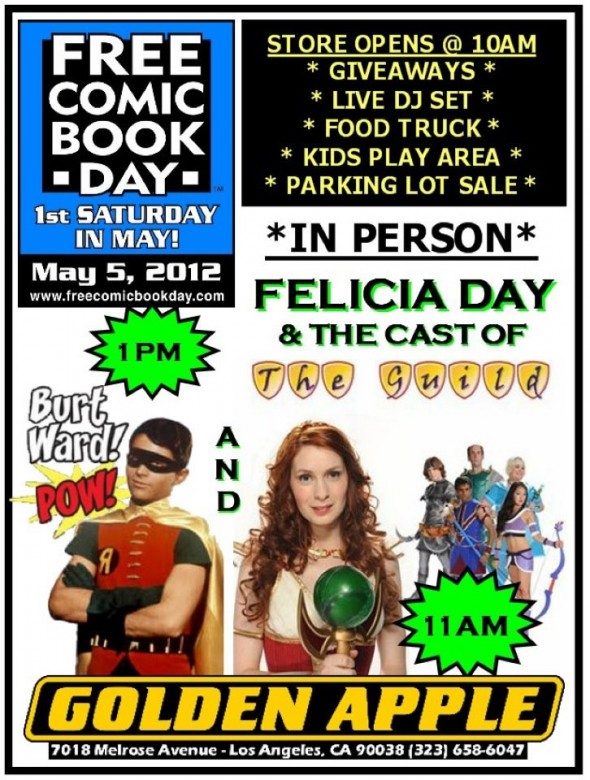 Burt Ward (Robin!) along with Felicia Day and the cast of The Guild appear at Golden Apple Comics on Saturday May 5, 2012 for Free Comic Book Day!
10:00AM – The festivities begin!
*1000'S OF FREE COMICS & SWAG!!!
*$5 grab bags with BIG prizes!!
11:00 a.m. Signings
Dark Horse Creators:
*Felicia Day & The Guild Cast Members
(THE GUILD)
*Andrew Chambliss
(BUFFY SEASON 9)
1:00 p.m. Signings
Bluewater Creators:
*Burt "Robin" Ward
(BURT WARD: BOY WONDER)
*Scott Davis
(WRATH OF THE TITANS)
3:00 p.m. Signings
*Marc Andreyko
(MANHUNTER, TORSO, TRICK R TREAT)
*David Schwartz
(IDOLIZED FROM ASPEN COMICS)
*Peter Calloway
(ANTI FROM 12 GAUGE COMICS)
Plus
*BOUNCE HOUSE & ACITIVITIES FOR KIDS
*TONS OF GIVEAWAYS!
*PARKING LOT SALE!
*FREE CINCO DE MAYO TACO BAR (W/PURCHASE) *LIVE DJ SET BYPDUB!
Golden Apple Comics
7018 Melrose Avenue, Los Angeles, CA 90038