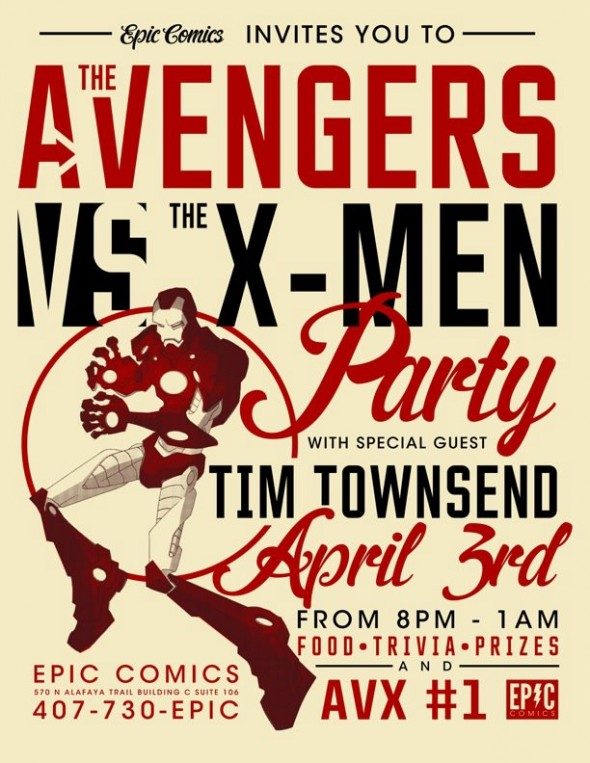 Tim Townsend signs at Epic Comics on Tuesday April 3, 2012 at 8pm!
Press Release:
Epic Comics is proud to announce that while you partake in the FREE FOOD at the Launch Party for AvX, we will be joined by THE MASTER inker of Wolverine and the X-Men, House of M, Amazing Spider-Man, and pretty much anything Marvel puts out, TIM TOWNSEND!!!! Tim will be signing books and hopefully teaming up with customers for AvX trivia as well! I hope we can bring in a big crowd of fans to show Tim that he should hang out here more often!
The fight you've been wanting to see is finally happening and to kick it off we're throwing an EPIC Launch Party for Avengers vs. X-Men #1!
Starting @ 8pm we'll have food, drinks (no beer, some of you are minors) music, video games and epic fun.
We'll also be running a 30% sale on all of our Avengers and X-Men titles that we have in the store and a Buy One Get One Special on our back issue boxes.
On April 3rd you'll have to choose a side. Are You an Avenger or an X-Man? It's Going to be EPIC!!
Epic Comics
570 N Alafaya Trl, Building C, suite 106, Orlando, FL 32828