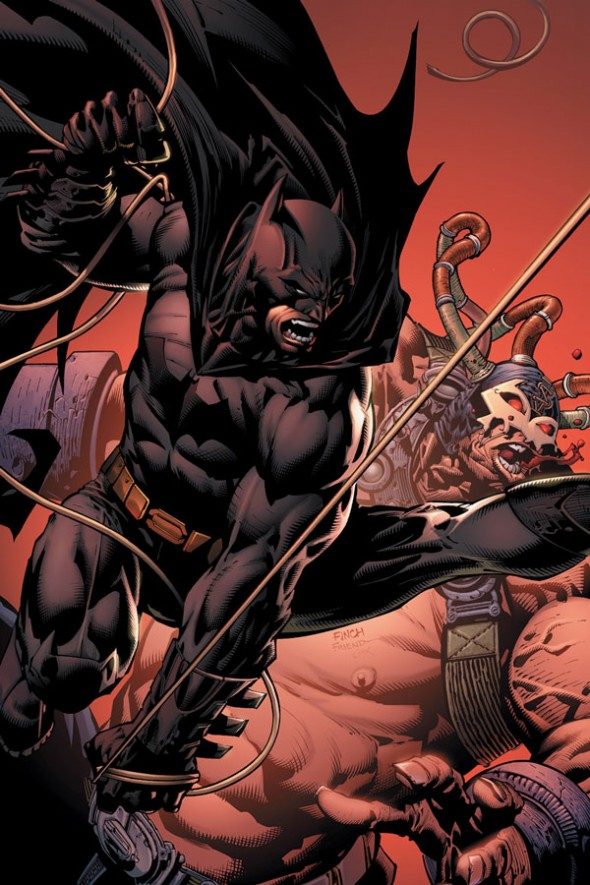 Press Release:
DC ENTERTAINMENT TO BRING TOP TALENT TO CHICAGO COMIC & ENTERTAINMENT EXPO (C2E2) 
Renowned Comic Book Publisher will Participate in Nine Panels at Convention; Executives and Creators to Meet with Fans
Norwalk, CT, March 23, 2012:  DC Entertainment has revealed that it will bring an extensive line up of top talent and creators to Chicago Comic & Entertainment Expo (C2E2).  The renowned comic book publisher is slated to participate in nine panels providing thousands of fans the opportunity to hear from some of the most famous artists and creators in the DC universe.  Many of these creators, as well as executives from the company, will also be on hand to meet with fans in the DC Entertainment booth, which will occupy 2500 square feet in a central location on the convention floor. The talent that is (so far) scheduled to appear at C2E2 includes: Franco Aureliani, Art Baltazar, Chris Burnham, David Finch, Patrick Gleason, Kevin Maguire, Sean Murphy, Jimmy Palmiotti, Gail Simone and Scott Snyder.  This does not include a number of top creators that DC will be bringing to the convention for BEFORE WATCHMEN, which has been announced in a separate release.
This year's C2E2, which is produced by the organizers of New York Comic Con (NYCC), is expected to attract thousands of loyal fans making this convention the largest pop culture extravaganza in the Midwest.  It will take place April 13 – 15, 2012 in the North Building at the McCormick Place Convention Center.
"DC Entertainment has been a tremendous supporter of C2E2 ever since we launched the show in 2010," notes Lance Fensterman, Group Vice President for ReedPOP and Show Manager for C2E2.  "We are honored that they bring such high caliber talent to our convention and this year is no exception.  I think their participation is a strong statement about how much they believe in our event, and how much they believe in Chicago and the Midwest as a center for pop culture activity and commerce.  DC is a pre-eminent publisher and they elevate dialogue and entertainment simply by being present and being involved.  We are pleased that they have elected to be so present and involved in C2E2."
FRANCO AURELIANI has been drawing comics since he could hold a crayon in his little fingers. His credits for DC Comics include the Eisner Award-winning TINY TITANS, YOUNG JUSTICE and the upcoming SUPERMAN FAMILY ADVENTURES. In 1995, he founded Blindwolf Studios, an independent art studio where he and fellow creators like his superstar cartoonist buddy Art Baltazar create wonderful comics for all the kids. Franco is also the creator, artist and writer of WEIRDSVILLE, LIL CREEPS and EAGLE ALL STAR and the co-creator and writer of PATRICK THE WOLF BOY. Franco is also very tall.
ART BALTAZAR is a super-cartoonist from Chicago! His credits for DC Comics include the Eisner Award-winning TINY TITANS, YOUNG JUSTICE and the upcoming SUPERMAN FAMILY ADVENTURES. Additional credits include GORILLA GORILLA comics for Disney Adventures and PATRICK THE WOLF BOY comics from BlindWolf Studios. Aw Yeah Man!
CHRIS BURNHAM derives from Chicago. His credits include BATMAN INCORPORATED and BATMAN AND ROBIN for DC Comics, X-MEN: DIVIDED WE STAND and X-MEN: MANIFEST DESTINY for Marvel Comics, FEAR AGENT for Dark Horse, THE ELEPHANTMENT, NIXON'S PALS and OFFICER DOWNE for Image Comics, and much more.
DAVID FINCH launched his comics career on Top Cow Productions' Cyberforce, where he started out assisting creator Marc Silvestri before graduating to full-time penciller in 1996. After co-creating the title Ascension and pencilling the first four issues of Aphrodite IX for Image, Finch went on to illustrate acclaimed runs on Ultimate X-Men, The New Avengers, Moon Knight and Ultimatum for Marvel before being lured to DC by its siren Bat-song. A contributor to BATMAN #700 and penciller for the one-shot BATMAN: THE RETURN, Finch is currently writing and drawing the ongoing series BATMAN: THE DARK KNIGHT as well as crafting exquisite cover art for a host of DC titles. A proud Canadian, he makes his home on the snowy steppes of Ontario.
PATRICK GLEASON loves to create fantastic characters and the worlds they inhabit. His focus on character development and powerful storytelling can be found within the stories of many iconic characters including DC's Batman and Robin, Green Lantern Corps, Aquaman, The Jusctie League, Martian Manhunter, Hawkman, and The JSA. His ground-laying work, alongside Geoff Johns, and Dave Gibbons on Green Lantern Corps mini-series RECHARGE made way for the acclaimed ongoing series. The Sinestro Corps War followed, and then culminated in the explosive Blackest Night with Peter J Tomasi. Along with DC Comics' wildly successful New 52, Patrick continues to lend his artistic vision and work to the Dynamic Duo of Batman and Robin.
KEVIN MAGUIRE resents being known as the guy who draws "funny faces." He draws expressive faces (thank you very much) on titles such as the various Justice League books of the 1980s, The Adventures of Captain America: Sentinel of Liberty, TEAM TITANS, Strike Back!, JLA: CREATED EQUAL, X-Men Forever, FORMERLY KNOWN AS THE JUSTICE LEAGUE, and The Defenders. OK… he draws funny faces too.
After breaking into the industry at a young age, SEAN MURPHY made a name for himself in the world of indie comics before joining up with DC for such titles as BATMAN/SCARECROW: YEAR ONE, TEEN TITANS, HELLBLAZER and the miniseries AMERICAN VAMPIRE: SURVIVAL OF THE FITTEST. He also wrote and illustrated the original graphic novel Off Road.
JIMMY PALMIOTTI is a multi-award-winning creator and co-founder of Event Comics, Black Bull Media, Marvel Knights, and Paperfilms, where he currently partners with Amanda Conner and Justin Gray. Together they have created and co-created: The New West, MONOLITH, 21 DOWN, THE RESISTANCE, The Pro, Gatecrasher, Beautiful Killer, Ash, Cloudburst, Trigger Girl 6, Splatterman, Thrill Seeker, Trailblazer,Ballerina, THE TWILIGHT EXPERIMENT and the TV series, Painkiller Jane.
He has worked on POWERGIRL and JONAH HEX for DC COMICS, The Last Resort for IDW, Back to Brooklyn for Image Comics, Spartacusfor Devils Due, and Time Bomb for Radical Comics. He is currently writing ALL-STAR WESTERN and THE RAY for DC COMICS the New 52.
GAIL SIMONE first caught the attention of the comics world on the world wide web, where her popular humor column "You'll All Be Sorry!" was featured on Comic Book Resources.  It wasn't long before she was tapped to write The Simpsons for Bongo Comics, which led to working in the mainstream for Marvel Comics as the writer on Deadpool.
Following her Marvel work, Simone began working for DC, where she is most known for her much-beloved run on BIRDS OF PREY.  She has continued to write for DC and its many imprints on titles that include ROSE AND THORN, ACTION COMICS, TEEN TITANS, SECRET SIX, THE LEGION, VILLAINS UNITED, JLA CLASSIFIED, THE ALL-NEW ATOM, GEN13, and her creator-owned title WELCOME TO TRANQUILITY. Simone is currently writing BATGIRL in DC COMICS-THE NEW 52.
SCOTT SNYDER has written comics for both DC and Marvel, including the bestselling series AMERICAN VAMPIRE, BATMAN, DETECTIVE COMICS and SWAMP THING, and is the author of the story collection Voodoo Heart (The Dial Press). He teaches writing at Sarah Lawrence College, NYC and Columbia University. He lives on Long Island with his wife Jeanie, and his sons Jack and Emmett. He is a dedicated and un-ironic fan of Elvis Presley.
For further information about guests and activities at C2E2 as well as purchasing tickets, please visit www.C2E2.com.  For more information about DC Entertainment and their guests please contact ­­­­­­­­­­­­­­­­­David Hyde at david.hyde@dccomics.com.
ABOUT REEDPOP:  ReedPOP is a boutique group within Reed Exhibitions which is exclusively devoted to organizing events, launching and acquiring new shows, and partnering with premium brands in the pop culture arena.  ReedPOP is dedicated to producing celebrations of popular culture throughout the world that transcend ordinary events by providing unique access and dynamic personal experiences for consumers and fans. The ReedPOP portfolio includes: New York Comic Con (NYCC), Chicago Comic and Entertainment Expo (C2E2), Penny Arcade Expo (PAX) East & West, Star Wars Celebration VI, Fantasy Football Fest, and UFC Fan Expo.  The staff at ReedPOP is a fan based group of professionals producing shows for other fans, thus making them uniquely qualified to service those with whom they share a common passion.  ReedPOP is focused on bringing its expertise and knowledge to world communities in North America, South America, Asia and Europe.