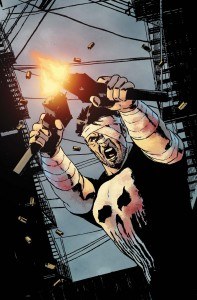 Press Release:
Eisner Award nominated comic artist Michael Lark will be attending this year's Big WOW! ComicFest in San Jose, California May 19–20, 2012. Michael will be set up at the Splash Page Comic Art booth.
Michael Lark adds to a growing list of recent artists who will be attending Big WOW! ComicFest. In the past few weeks Tim Sale, Joe Benitez, Dean Yeagle, Mike McKone, Dan Parsons, and John Livesay have also been added. They join a growing list of some of the most popular artist/creators in comics today, including Jim Lee (Sunday only), Juanjo Guarnido, Toshio Maeda, Bernie Wrightson, Frank Cho, Travis Charest, Kevin Nowlan, Tim Bradstreet, Thomas Jane, Steve Niles, Dan Brereton, Michael Golden, Joe Jusko, Joe Linsner, Aaron Lopresti, James O'Barr, Ryan Sook, Buzz, and many more. Click here for a full Guest List.
Advance tickets are available at a discount via BigWowComicfest.com or through many comic shops in the San Jose area. Click here for more information.
ABOUT Big WOW! ComicFest 
"Big Wow! ComicFest" is by all accounts, an "old fashioned" comic book convention, with a special emphasis on the love for comic books, art and, most importantly, the creators. With a focus on creators, art and art related events and, this year, in association with the Cartoon Art Museum in San Francisco, an "Avengers" Museum show on the Big Wow! convention floor, Big Wow! will be a comic book lover's dream scenario.
Big Wow! ComicFest will occur on May 19th & 20th, 2012, at the San Jose Convention Center. This year's stunning guest list sets a new standard for talent at a single convention and includes Jim Lee, Kevin Nowlan, Juanjo Guarnido, Bernie Wrightson, Steve Niles, Tim Bradstreet, Bob Layton, Joe Jusko, Joe Linsner, Ryan Sook, Frank Cho, Aaron Lopresti, Toshio Maeda, Liam Sharp, Sergio Aragones and many, many more. Check out the CAF created website at www.bigwowcomicfest.com for all the fun facts and information.
ABOUT Michael Lark
Michael Lark is an Eisner Award nominated illustrator for his work on Daredevil, Gotham Central, Batman Nine Lives and Terminal City. He has also illustrated Terminal City: Aerial Graffiti, Scene of the Crime, and worked on a number of other titles for DC/Vertigo, including All-Star Comics, Superman: War of the Worlds, Sandman Mystery Theatre, The Invisibles, and Legends of the Hawkman.
ABOUT SplashPageArt.com 
SplashPageArt.com
 is an original art representative and dealer who specializes in selling original comic art by modern era artists.  SplashPageArt.com takes great pride in providing the type of service that they would expect when they are the customer.
SplashPageArt.com represents the original art sales for the following artists: Charlie Adlard, Lee Bermejo, Juan Bobillo, Tim Bradstreet, Mitchell Breitweiser, Laurence Campbell, Mauro Cascioli, Cliff Chiang, Simon Coleby,  Chris Cross, Nick Derington, Kristian Donaldson, Marko Djurdjevic, Leandro Fernandez, Duncan Fegredo, Marcelo Frusin, Dave Gibbons, Grant Goleash, Diego Greco, John Higgins, Jason Howard, Jeremy Jarvis, Jock, Kano, Don Kramer, Ben & Ray Lai, Michael Lark, Paul Lee, John Paul Leon, Jorge Lucas, Jim Muniz, Hoang Nguyen, Victor Olazabba, Ariel Olivetti, Ryan Ottley, Sean Phillips, Warren Pleece, Pablo Raimondi, Cliff Rathburn, Paolo Rivera, Robbi Rodriguez, Edgar Salazar, Marcelo Sosa, Cameron Stewart, Goran Sudzuka, Ben Templesmith, Brad Walker and Eric Wight.