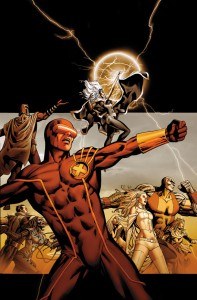 Jamie McKelvie and Kieron Gillen sign on Thursday 15 March 2012 from 18:00 – 19:00
Forbidden Planet London Megastore, 179 Shaftesbury Avenue, London, WC2H 8JR
Press Release:
Forbidden Planet is delighted to bring you a fantastic double X-Men signing! Jamie McKelvie and Kieron Gillen will be at the London Megastore, 179 Shaftesbury Avenue, WC2H 8JR, on Thursday 15th March 2012.
Artist Jamie welcomes you to the X-Men's first year! Professor Xavier has recruited five of the most powerful mutants he's ever seen to save a world that hates them. But there's only one problem: they're teenagers who have to survive hormones and super-powers, all while fighting for their lives. So now's the perfect time for Magneto and the Brotherhood of Evil Mutants to make their bid for control of the world. The first X-Men are forged in the fires of combat in ways you've never seen!
Written by Kieron, Uncanny X-Men starts over in the wake of Schism. What is to become of Cyclops and the mutants who side with him after the big split? And what does it have to do with the resurrected Mr. Sinister? The hottest new writer in the business, Kieron Gillen (Thor), and superstar artist Carlos Pacheco (Ultimate Avengers) bring you the biggest and baddest X-Men you've ever seen.